Keegan-Michael Key celebrating Jordan Peele's Oscar win for "Get Out" is the best thing you'll see today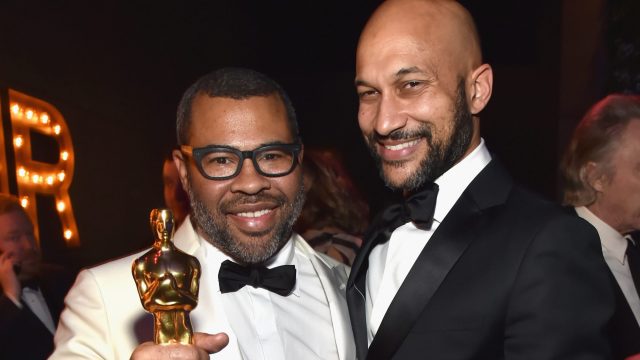 At the 90th Academy Awards, Jordan Peele won an Oscar for Best Original Screenplay for instant classic horror film Get Out. If you thought you were excited about that, you haven't seen anything yet. While he wasn't at the ceremony with Peele, his long-time comedy partner, Keegan-Michael Key celebrated the MOST out of all of us together — and we ahve the pictures to prove it.
Not only that, following the 2018 Oscars ceremony, Key and Peele — who were behind the cult classic Key & Peele — got to celebrate *together.* The picture is giving us so many feelings, and it will definitely warm your heart on this blustery March day. Is there anything moer precious than true-life BFFs and general comedic geniuses appreciating one another. We're crying, you're crying, we're all crying! It's fine!
While the duo's show only ran for three years, its use of comedy to underscore race and gender relations, as well as send up pop cultural and society in general, cemented the show's place in history. From there, the two continued acting and writing together, but Get Out was Peele's solo project. For fans, watching his longtime collaborator celebrate his success was just the greatest. Until we saw the picture of them actually embracing post-Oscar win, of course.
Do you believe in magic? If not, did these pictures change your mind?
Well first, here's Key reacting to Peele's win:
Don't worry about Peele being sans-Key at the Oscars, though! The cast of Get Out remained close by his side, along with comedian Chelsea Peretti, who graced Peele with her hand in marriage in a secret ceremony in 2016; sat next to Peele during the ceremonies (and kept kept fans informed of her breast milk pumping schedule on Twitter, which is weird and hilarious and extremely on-brand for her).
How sweet is this? Nothing but joy, live, and pride radiating from Keegan-Michael Key's eyes. A truly blessed series of photos. And maybe, just maybe, Key could end up winning next.