Here's how Jordan Peele made history *multiple* times with his "Get Out" nominations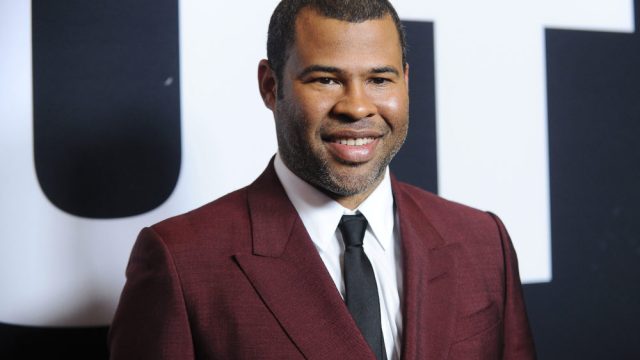 Jordan Peele's directorial debut, Get Out, thrilled audiences. It's not only a gripping horror film — its clever discussion of systemic racism and white supremacy in America was also nothing short of brilliant. So it's no surprise that when the Oscar nominations came out this morning, Peele and Get Out earned some huge nods. The film was nominated for Best Original Screenplay, Best Director, Best Actor in a Lead Role, and Best Picture. And while it's awesome to see such a groundbreaking film do so well at the biggest awards ceremony in film, Peele's nominations were also groundbreaking.
First off, it's highly unusual for horror films to pique the Academy's interest at all, as The Hollywood Reporter points out. It's no secret that the Oscars have had a slight bias against certain genres of film, horror being one of them. There aren't a great deal of other flicks in the genre to earn Best Picture nominations from the Academy. Those that have earned the coveted nomination include Suspicion, The Exorcist, The Silence of the Lambs, and Sixth Sense. While Get Out isn't a straight-up horror film per se, it's definitely got notes of horror — and it's still really cool to see the Academy notice an often-overlooked genre.
Not to mention, Jordan Peele's nominations for Best Picture, Screenplay, and Director welcomes him into a very exclusive club.
To date, the only other people who have managed to earn those nominations in a directorial debut are Warren Beatty for his 1978 film Heaven Can Wait and James L. Brooks for his 1983 film Terms of Endearment. It should also be noted that Peele is the first African-American nominee to receive nods for those three categories in the same year. Also, Peele is only the fifth black person to earn a best director Oscar nomination — and zero have won so far.
It's exciting to see Peele's directorial debut sweep major categories and bring recognition to an oft-snubbed genre, and his movie certainly deserves to be in the highly successful first-time directors club. However, with the Academy Awards celebrating its 90th year, it's troubling that Peele is only the fifth black director to be nominated for an Oscar, and it's even more troubling that no black director has won.
https://www.youtube.com/watch?v=sRfnevzM9kQ?feature=oembed
It's no secret that systemic racism is a tough thing to unravel, or that giant industries that have done things a certain way for decades, like the Hollywood machine, are slow to change. So on the one hand, it's encouraging to see brilliant filmmakers get the recognition they deserve. However, it also highlights just how much work we have left to do.
For now, we're celebrating Jordan Peele. He made a truly brilliant movie, and we're so excited to see him and the film get the recognition they deserve. You can bet we'll be tuning into the Academy Awards on March 4th to cheer him on, and hopefully, we'll see more diverse films like Get Out — diverse both in front of and behind the camera — in the near future.