To All The Boys star Jordan Fisher is Team Peter, but here's why he thinks John Ambrose is Lara Jean's endgame
This story contains spoilers from To All the Boys I've Loved Before: P.S. I Still Love You.
Lara Jean Covey finds herself in quite the love triangle in the new romantic comedy To All the Boys: P.S. I Still Love You. She has two options for a love interest: heartthrob jock Peter Kavinsky and sweet musician John Ambrose McClaren. The sequel to Jenny Han's smash hit To All The Boys I've Loved Before premiers on Netflix on February 12th, but before audiences even saw the connection between Lara Jean (Lana Condor) and her childhood crush John Ambrose spark onscreen, a heated debate arose on social media, with fans vehemently taking sides: Team Peter or Team John. Although this decision makes our heads spin, Jordan Fisher (who plays John Ambrose) thinks it's an easy choice.
"I'm Team Peter—for now," Fisher tells HelloGiggles. "I think during high school and college, Peter and Lara Jean are supposed to be together for certain reasons."
What are those reasons, you ask? Fisher thinks that Peter (played by Noah Centineo) and LJ's undeniable connection is enough for teenagers in love to stick together, despite long-term compatibility doubts. Still, first loves have a way of holding a certain space in our hearts, and Fisher thinks that Lara Jean won't forget about her childhood crush on John Ambrose, even though she (major spoiler alert!) chooses Peter over John at the end of the second film.
"I think ultimately for Lara Jean, like endgame and marriage material, it's John," Fisher says. "He's a great match for her, in my opinion. He's so thoughtful, intentional, warm, and kind, and he's also a no-drama person."
As for which guy Fisher thinks fans will root for, the actor is torn.
"The chemistry between Peter and Lara Jean that audiences have seen blossom and grow in a beautiful way for an entire film is just now starting for John Ambrose and Lara Jean," he says. "But John happens to be her first love and the first letter that she wrote. Then, he coincidentally finds himself back in the mix of her life. You can totally see the history and how the fact that they were such good friends would allow their relationship to work."
Although we headed into the second film thinking that no one could sway our devout loyalty to Peter Kavinsky, we have to admit, John Ambrose McClaren makes a strong case for himself in To All the Boys: P.S. I Still Love You. First of all, he plays the piano beautifully (which Fisher himself improvised during the film), he enjoys spending time with the elderly, and he hosts great treehouse pizza parties. Similarly, Fisher played host to the cast while filming the movie, inviting his co-stars to eat hot dogs and watch anime movies in his apartment. "We had a really lovely time together," he recalls.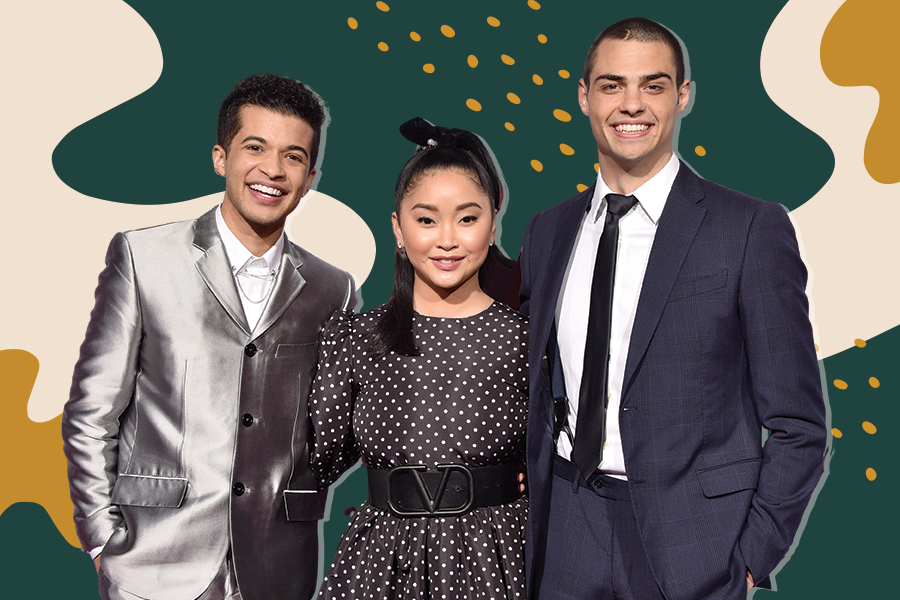 Aside from his musical talent and innate hospitality, John Ambrose also knows how to bring the romance. For instance: The long-awaited moment when he and Lara Jean step out of the friend zone is a picture-perfect scene. The pair makes snow angels and dances in basically a real-life snow globe before finally kissing. However, Lara Jean's face quickly fills with the realization that she wants to be with Peter when John leans in for another kiss. Fisher explains what he thinks his character was feeling in that loaded moment.
"He's a heartfelt, understanding, and intelligent individual—probably the sweetest person ever written in any young adult novel. He's sophisticated enough to recognize the situation and allow her to do what she needs to do. He ultimately wants her to be happy."
This understanding and patience is what we think will allow John Ambrose to stay in Lara Jean's life as a friend, regardless of her relationship with Peter. We could see that patience paying off for John the next time Peter and Lara Jean hit a bump in the road,  but alas, we'll just have to wait until the third film to find out. The final installment of the trilogy, To All the Boys: Always and Forever, Lara Jean, has already been filmed, though Netflix has yet to release a premiere date. When summing up the debate between Team Peter and Team John, Fisher notes that some fans are straight up Team Lara Jean,and for now, that's where our loyalties lie.