Jonathan Van Ness tells us how to form better self-care habits and why it's so important to vote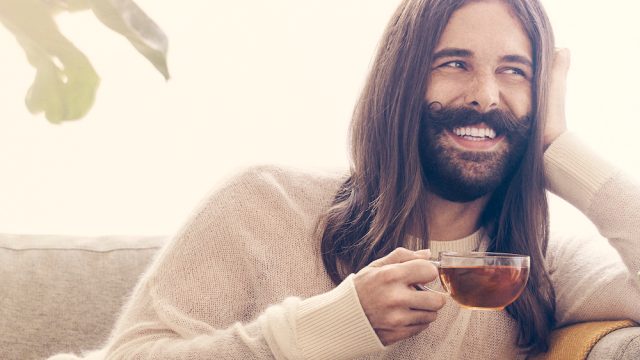 Self-care is more important than ever right now. But even though we know we should form positive self-care habits and take the time to de-stress, sometimes that's easier said than done. So for advice on how to actually make it happen, we went to the self-care master himself: Jonathan Van Ness. And he shared a lot of tips on how to live a happier, more stress-free life.
For many people—us included—watching Jonathan on Queer Eye is a form of self-care in itself. So we loved chatting with him about how he relaxes, unwinds, and de-stresses. Oh, and how important it is to get out and vote in the midterms on November 6th.
And when in doubt, just remember: "You're strong. You're a Kelly Clarkson song. You got this."
HG: You've partnered with Lipton to promote the brand's Stress Less tea. Why are you excited about this partnership?
Jonathan Van Ness: Oh! I just realized that we're partnered together through February, and it feels expiration date-y. I don't like it. I'm going to be a fan of Lipton forever. So really, that's what that is. This coming Monday, we're going to be having a really fun event at the Oculus [in New York City]. We're going to have a gorgeous cup of Stress Less tea, and a little Monday afternoon cuddle sesh—really just drink some tea and have a little time to connect and release some endorphins and have a chat. There's also a rumor going around that there's going to be a life-size adult coloring book wall. Color on the wall and de-stress together? [Pause] If I have been lied to about this life-size coloring book wall, I'm going to be so devastated, because I don't know if I've ever been so excited for anything in my adult life outside of Lipton's Wellness range. JK, but I'm really so excited for the coloring wall.
HelloGiggles: You have a Friday night all to yourself to de-stress. What do you do?
JVN: Gorgeous question. It would definitely involve British Baking Show, my cats, and, honestly, a gorgeous cup of Stress Less tea. Stress Less tea doesn't have caffeine in it, which I love. I love how at night, you can have a nice, warm cup of tea and let your throat relax from the excessive amount of talking you've been doing that day. Or just me, actually. That was me, not anyone else. Yeah, a gorgeous cup of tea and some British Baking Show. That really is the most 31-year-old-sounding thing I've ever said, but it's true. I guess that's my 31-year-old truth now. I love to watch British Baking Show and drink tea. That's just what it is.
HG: How can people form better self-care habits, and stick to them?
JVN: Rome was not built in a day, such as amazing self-care rituals and habits weren't built in a day. So I think biting off attainable pieces of self-care at a time are really helpful. Don't do everything at once. If you are someone who is a daily tea drinker, for instance, instead of making your tea in the morning and then immediately jumping to your list of the day's activities, maybe you could incorporate three minutes of sitting with yourself in quiet, just listening to your breath or doing some visualization—just doing some sort of mindfulness exercise or breathing exercise for three minutes maximum. Because really, the science around mindfulness says that the key is being able to do it daily. It's better to do it every day for like, three minutes, than it is to do it once a week for like, 40 minutes. Self-care can be small—small pieces during the day. It doesn't have to be huge sweeping "I don't even know who I am anymore" changes to your life.
HG: Speaking of stress, can you talk about how important it is to vote in the midterm elections?
JVN: Oh my gosh. Well, we're gonna have to really extend this interview by about seven hours. Just kidding. I think what is the most important for this midterms, as far as what I've seen—I had a podcast come out about this—is state legislatures. A lot of us have not been paying attention to state legislatures, and we haven't been paying attention to how the legislation that comes out of state legislatures affects all of us. I think that is something we have not been giving the glamour and the priority it deserves. State legislatures are a place where a lot of restrictions for a lot of different people are coming out of. Just really recognizing that state leges—as I learned that lawyers like to abbreviate and call them—state leges are a place that you really can have a conversation with your elected officials and you can be more heard. That's a really overlooked way that you can have your vote count. Yes midterms, and yes state legislatures.
HG: We're of the mind that it's the little things that make life great. What are your favorite "little things" that bring you joy?
JVN: My kittens!
HG: Tell them that we say hi, and tell your mom we say hi!
JVN: Oh my god, I love you! She got asked for a selfie for the first time on vacation last week, so I think she's really lovin' it. She's not over it yet. She's so cute.
You can escape the stress of Monday and have a cup of Stress Less tea with Jonathan Van Ness at the Lipton Stress Less Monday event on Monday, October 29th from 12-5 p.m. at The Oculus in New York City. The event is free and open to the public.