"It's So Much More Than Our Fashion Choices": Jonathan Van Ness on Identifying as Non-Binary
The 'Queer Eye' star talks LGBTQ+ representation, self-care, and adopting a dog.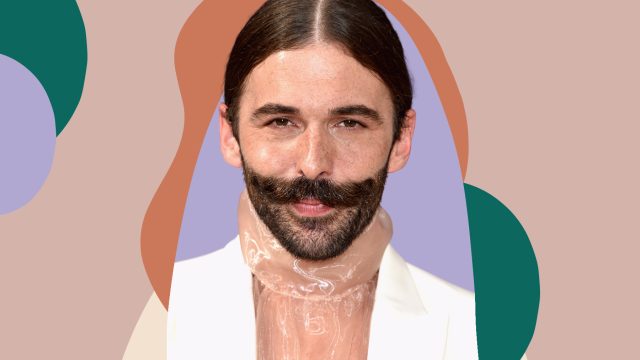 Last year, Jonathan Van Ness came out as non-binary in an interview with Out magazine, revealing that some days he feels like a man, and other days he feels like a woman. Although the cohost of Netflix's Queer Eye has been wearing heels and skirts, painting his nails, and using makeup for years, Van Ness told the outlet that he didn't recognize the name for his gender identification until fairly recently. But now, nearly a year and a half after he adopted the labels non-binary and gender non-conforming, the star tells HelloGiggles that he wishes people realized that those titles encompass far more than simply a person's appearance.
"Gender is such a spectrum," Van Ness says, speaking on a recent Zoom call to discuss his partnership with pet food brand Purina. "Specifically for non-binary and gender non-conforming people, it's so much more than what we wear and what our fashion choices are—it's really a sense of our existence in the world."
Since skyrocketing to fame in 2018 as the bubbly and witty grooming expert on Queer Eye, Van Ness has become nothing short of an icon in the LGBTQ+ community—especially when he went public with his positive HIV diagnosis last September. The value of his fame is not lost on Van Ness; with over five million Instagram followers, nearly 800K Twitter followers, and a podcast (Getting Curious with Jonathan Van Ness) that has charted in nine countries, the star says he's grateful to have a platform where he can express and advocate for his (and many others') gender experience.
"I have a very privileged and lucky experience; that doesn't mean I haven't worked really hard, because I have. I've been rejected and I've been through so many things," says Van Ness. "But I feel so grateful to have safety and a roof over my head, because this pandemic has hit LGBTQ+ people who already faced increased instances of homelessness, poverty, and violence because of being disowned by their families and because of systems that already work against LGBTQ+ people."
While he acknowledges that the LGBTQ+ community has "come really far" in terms of representation, Van Ness admits that it "irks" him how the trans community is often discussed in terms of violence but not celebrated widely when individuals accomplish amazing things. "We need more trans representation, more trans celebration, and more Black trans joy that people are looking out for and wanting to talk about," he says. While considering both the progress and the discrimination that's happening simultaneously today, Van Ness quotes Charles Dickens: "It was the best of times; it was the worst of times."
"Is there more success than there has been in the trans community right now? Yes," he says. "But there's also more violence and suffering, and there's a really steady beat of a transphobic drum in our state legislatures and in celebrity. There's really casual transphobia that's lending itself to increased violence in a lot of places."
Van Ness has worked hard over the years to fight for marginalized groups, but the Queer Eye makeover artist extraordinaire knows that, just as he teaches the show's "heroes," we must take care of ourselves before we can accomplish anything else. For Van Ness, self-care isn't just about trying new skin cleansers and getting blowouts (although he'd never turn either down); it also includes gardening, dance sessions while pouring his morning coffee, and taking virtual barre classes.
"We can use self-care as a way to give ourselves a bit of nurturing so that we can go back out and keep advocating and fighting for the things we want to see happen," he explains. "[This year] has been a dark time, but it's also been kind of an amazing time because there's more awareness and there are more people—hopefully—who are willing to come together and just heal."
Throughout the turmoil of 2020, Van Ness says he has tried to maintain a positive mindset, but he doesn't deny his low moments either. Instead, the 33-year-old allows himself to feel all the feelings and recommends that others do the same.
"It's okay if you don't feel like your typical self [right now]," Van Ness explains. "So much has shifted, whether it's job stability, financial stability, or social stability—being able to see people that we normally saw to seek comfort. So many self-soothing activities—especially if you're someone, like me, who likes to see people—are not available. So it's okay if our baselines are different."
Something that's helped Van Ness maintain a sense of purpose this year is taking care of his pets. With four cats and a recently adopted dog (Pablo) under his roof, the star says his pack of animals "has replaced the Fab Five," referring to his Queer Eye cohosts, whom he sadly hasn't been able to spend time with during the pandemic. All of this extra time at home, Van Ness says, has "taught him about his animal parenting" and helped him keep a semblance of routine.
"My puppers needs his three walks and he needs his food at the same time [every day], so that's been nice to keep us more regimented," Van Ness says. "Plus, the walks are really good for the endorphins situation."
Another pet-centric pastime for Van Ness during quarantine? Creating fun games for his cats (all rescues) and "agility exercises" for Pablo. The star recently partnered with Purina to create an animal holiday gift guide, which he says his pets deserve for "putting up with so much of our drama and anxious energy at home." Van Ness reveals that although many treats make his cats "sicky-poo," they love Purina snacks ("especially the salmon bites"), and he's been using them to play hide and seek games with empty egg cartons and ping pong balls. Meanwhile, the hairstylist has been teaching Pablo how to jump through hoops and climb obstacle courses for the reward of Purina Beggin Strips.
Yet despite having ample time at home this year, Van Ness has been keeping busy interviewing fellow activists and celebrities via Zoom each week for Getting Curious, an experience he calls "really funny" due to the technical difficulties we've all become accustomed to by now. But the star says he's also been taking the opportunity to listen more and "interrupt less" while interviewing guests. "Most of the things I've done, I've kind of taught myself as I go—interviewing people included," Van Ness says.
When it comes to trying new things, Van Ness is fearless—and we're not just talking about quarantine hobbies like tie-dying or baking bread. Over the past few years, the star has trained in both figure skating and gymnastics, two sports he's been passionate about since he was a kid. "I could've never imagined that I would've been at a place in my life where I would learn how to figure-skate at my age, having been through some of the things I've been through," Van Ness says. "So it really feels like such a grateful moment."
Practicing gratitude, the star adds, is where he finds the courage to chase dreams that some people might find scary or unattainable. "Whether it's adopting baby animals or figure skating or trying stand-up comedy and becoming a successful comedian, I'm like, 'What?'" Van Ness says. "It just feels like such an honor that the universe gave me a chance."