Good news: Gay of Thrones is back, in case you finished Queer Eye and need a Jonathan Van Ness fix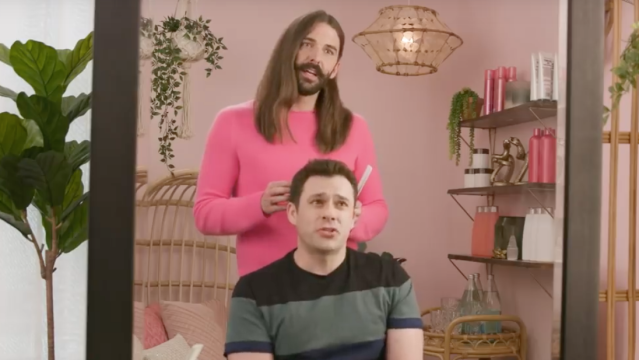 Before he was the resident hairstylist on Queer Eye, Jonathan Van Ness was the host of a hilarious Funny or Die web show called Gay of Thrones—a Game of Thrones recap show. Van Ness launched the show in 2013, and each episode features the hair guru doing someone's hair while recapping the previous night's episode of Game of Thrones. It's been nearly two years since Game of Thrones Season 7 aired, meaning it's been two long years since Van Ness dropped a Gay of Thrones. There hasn't been a new Gay of Thrones episode since Queer Eye debuted on Netflix in 2018, which made some JVN fans fear he had gotten "too big" for his little web show. But those fears were happily unfounded. If you are new to Gay of Thrones, gather round, because it might be the between-seasons-of-Queer-Eye JVN fix you need in your life.
In the new episode, titled "Winterfella," Van Ness and guest host comedian Bryan Safi deconstruct Season 8's first episode. However, if you're looking for a detail-oriented recap episode, this isn't it. Van Ness serves up his usual colloquialisms in these off-the-wall recaps. For example, the "Winterfella" recap included him continually referring to Daenerys Targaryen as Christina Aguilera, comparing Cersei's new wig to Pam Brady's, wondering why they named a Dragon "Drogon," calling Peter Dinklage "Mayor Pete," and deconstructing that new title sequence—which JVN said got a Queer Eye makeover.
https://www.instagram.com/p/BwUcwXNnKqt
The show is basically just JVN doing what he does best, which is being a delightfully silly wordsmith and a huge Game of Thrones enthusiast.
If this is up your alley, you can watch all the old episodes here.