Jon Hamm opened up about his "equipment" and we are blushing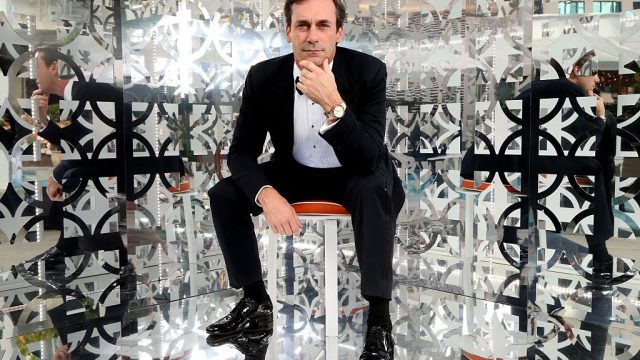 As far as Hollywood rumors go, this particular one about Jon Hamm is one of the best. The Mad Men star recently opened up about his allegedly giant equipment in an interview with GQ Australia. Seems like his junk is the talk of the town yet again, with millions of Tumblr posts dedicated to it already.
Due to Jon Hamm's undeniable perfection, any news about his man-business will be front page fodder. Jon Hamm's latest appearance of Billy On The Street almost distracted us from penis-gate. Long enough to laugh, but not long enough to forget.
Since when do people say no to a three-way with those two?
https://www.youtube.com/watch?v=dLpL-9M47SQ?feature=oembed
Anyway, back to the topic of choice. John told GQ Australia that his penis did raise some questions. He, personally, couldn't care less.
"It was a topic of fascination for other people, certainly not me."
 He's just so modest! As much as we'd like to think we're above such crass topics, we're hot-blooded animals. Plus, there's already a YouTube video about it, so we're not alone.
https://www.youtube.com/watch?v=ciNQrdRwyss?feature=oembed
In addition to Jon Hamm's downstairs, people have looked into other celebrity's business, like Idris Elba's on-set bulge. It turned out his was just a mic wire. Disappointing? Maybe. But it gave us this wonderful Tweet:
We bet Idris Elba and Jon Hamm have a lot to commiserate about!