Jon Hamm joined "Billy on the Street" and hilariously asked people to have a threesome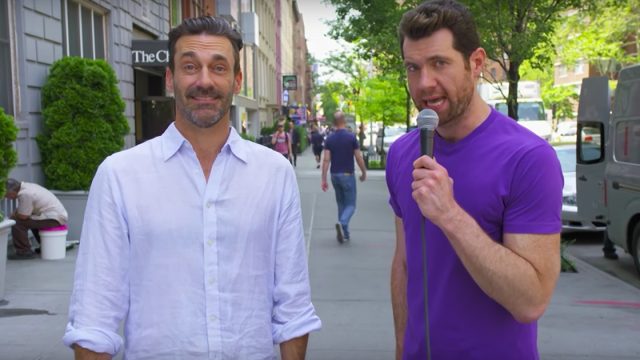 Given the state of the world at the moment, anything that can make us laugh is completely welcome, which is why we're HOWLING with laughter at Jon Hamm, Billy Eichner, and their threesome mission. Okay, that sounds a lot dirtier than intended.
Basically, Jon Hamm joined Billy Eichner for Billy on the Street to see if, for a dollar, random people on the street would a threesome with them in the name of "progress." From Michelle Obama's hilarious cameo, the fact that people don't know who Chris Pratt is, and questioning people whether they'd have sex with Paul Rudd, Billy on the Street is literally one of the funniest things on the internet.
Now Jon Hamm has joined the Billy on the Street hall of fame to find out whether for a dollar they'd have a threesome with him and Billy Eichner himself.
This might be the funniest thing we've seen all month.
https://www.youtube.com/watch?v=dLpL-9M47SQ?feature=oembed
"In the years since we played the critically acclaimed game 'Would you have sex with Paul Rudd?' television and the country at large have gotten far more progressive and forward thinking about such issues," Billy explains. "So, in an attempt to stay current and stay ahead of some inevitable pseudo-highbrow HBO series about living as a threesome, I'm about to hit the street with Emmy Award winner Jonathon Hamm to play a new game I like to call, 'Would you have a threesome with me and Jon Hamm?'"
The clip is taken from Billy Eichner's truTV show, Billy on the Street, which is just about to start it's fifth season tonight (November 15th).
The clip sees Jon and Billy chaotically running around New York City quizzing people whether the would indeed have a threesome with them both.
It's safe to say that there were varying results…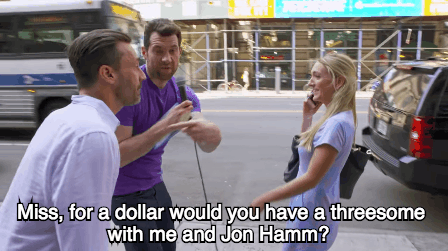 This guy was *really* into it…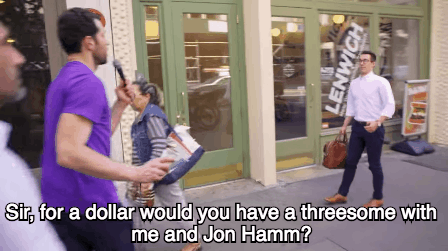 They even debated who would be on top…
This woman was less into it, however…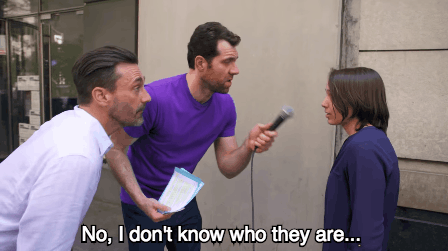 LOL!
Billy on the Street returns to truTV tonight at 10:30/9:30c.