'Jojo Rabbit' writer-director Taika Waititi is the first indigenous person to win in his category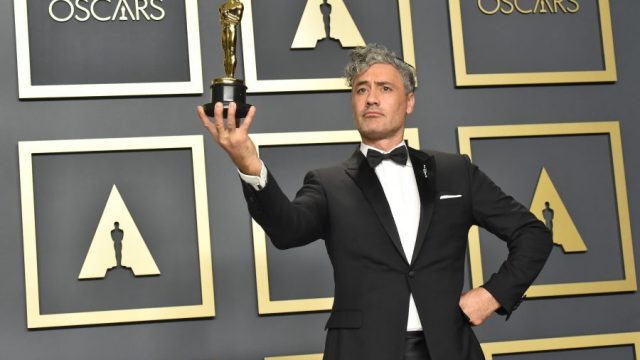 Though the 2020 Oscars may not be winning any points when it comes to inclusive representation among its nominees, Taika Waititi's win for Adapted Screenplay represents one small success in this vein. The writer-director-actor, who was nominated for his work in the film Jojo Rabbit, is the first person of Maori descent to win an Oscar. Waititi is also the only indigenous person to be nominated in his category.
Overall, Jojo Rabbit is nominated for a total of six Oscars tonight, including Best Picture. Chelsea Winstanley, who worked as a producer on the film alongside Waititi is also of Maori descent, making the married couple the first indigenous duo to receive a nom for Best Picture. Jojo Rabbit's production designer, Rā Vincent, is another Oscar nom of indigenous descent this year.
Unsurprisingly, the Oscars doesn't have too extensive of a history honoring the great contributions of indigenous people in the world of film. The only other competitive Oscar win by an indigenous person went to Buffy Sainte-Marie, who won for Original Song in 1982 for "Up Where We Belong," featured in the movie An Officer and a Gentleman. Wes Studi, a Cherokee American actor, also received an honorary award by the Academy for a lengthy and prestigious career that spanned over 30 films.
Featuring the likes of Scarlett Johansson, Rebel Wilson, Roman Griffin Davis, and Thomasin McKenzie, Jojo Rabbit is a comedic satire taking place during WWII. Centered around a boy living as a Hitler Youth whose imaginary friend is Hitler, things take a turn when the boy discovers his mother is hiding a Jewish girl in the attic.
While we still can't help but notice the lack of diverse nominees, especially in regards to people of color, at least this is a start.