Johnson & Johnson finally vowed to halt products used for skin lightening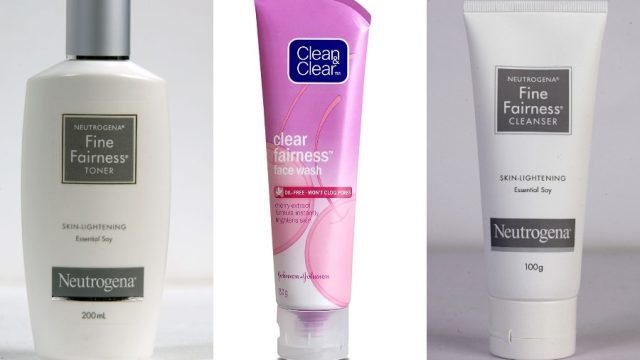 In the midst of the most recent wave of the Black Lives Matter movement, all inherently or adjacently racist powers that be (i.e., pretty much all of them) are undergoing very public moments of reckoning—including, of course, corporations. Whether many of those corporations actually do anything to amend their racist practices remains to be seen, but at least one corporate giant is making the attempt: According to the New York Times, Johnson & Johnson will no longer sell product lines from Neutrogena and Clean & Clear that can be used as skin lighteners.
"Conversations over the past few weeks highlighted that some product names or claims on our Neutrogena and Clean & Clear dark-spot reducer products represent fairness or white as better than your own unique skin tone," Johnson & Johnson said in a statement for the Times. "This was never our intention—healthy skin is beautiful skin."
Neutrogena Fine Fairness, which is sold in Asia and the Middle East, and Clean & Clear Clear Fairness, distributed in India, are marketed as dark spot reducers. But according to the Times, consumers often use Clear Fairness products expressly to lighten their skin.
Commercials in Asia literally market Fine Fairness as a product that allows users to "whiten more thoroughly."
The company said that it will no longer produce or ship either of these product lines, though they're letting current stock sell out rather than pulling them from the shelves. They'll also update the Neutrogena and Clean & Clear websites to remove links to both lines.
Earlier this month, Johnson & Johnson also announced that Band-Aid would start making skin-tone bandages that actually represent people's skin tones.
"We are committed to launching a range of bandages in light, medium and deep shades of Brown and Black skin tones that embrace the beauty of diverse skin," Band-Aid wrote in an Instagram post. "We are dedicated to inclusivity and providing the best healing solutions, better representing you."
It is heartening to see Johnson & Johnson take some action, even if it's long overdue—and just one step in the marathon of establishing a truly egalitarian beauty market. We also hope it's leading the charge for other beauty and consumer-products corporations like Unilever, Proctor & Gamble, and L'Oreal to discontinue the distribution of their own brands' skin-lightening products.
Heads up: If putting an end to this archaic and racist practice is of importance to you, you can sign Change.org's petition for Unilever to ban Fair & Lovely.