Twitter thinks Johnny Weir's outfit is straight from "The Hunger Games," and the odds are definitely in his favor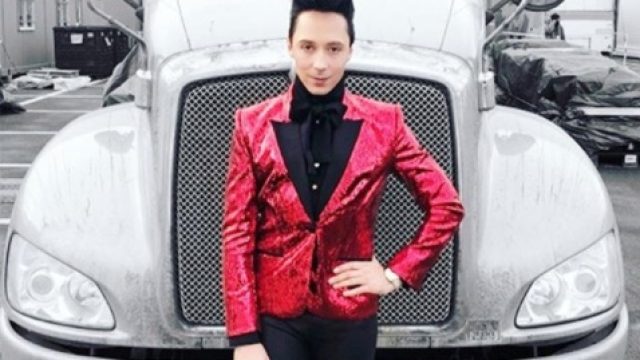 Let the games begin! The 2018 Olympic games are officially underway. The opening ceremony and Parade of Nations kicked things off on Friday, February 9th. If you didn't get the chance to stream the opening ceremony, don't worry. You can still watch the 2018 Olympics opening ceremony on the evening of the 9th at 8 p.m. Eastern on NBC. But the PyeongChang games wasted no time getting to the games. On Thursday, February 8th, the Curling, Ski Jumping, and Figure Skating competitions began. Athletes heated up the ice in practice and qualifying rounds. But one of the night's highlights wasn't on the ice, but off. And that would be an incredible Johnny Weir Hunger Games look.
Johnny Weir and Tara Lipinski provided commentary for the men's and pairs' figure skating short programs. And while there was plenty to see on the ice, viewers couldn't keep their eyes off of the fantastic Johnny Weir Hunger Games outfit on their televisions. Twitter quickly pointed out that he looked a lot like Caesar Flickerman, a Hunger Games character known for his wildly creative and dynamic ensembles. It's the perfect comparison too: In the books and movies, Caesar provides commentary for the Hunger Games.
We're loving this Johnny Weir Hunger Games look.
His look of the day included a Redemption blazer, a No. 8 shirt, and Christian Louboutin shoes.
Both Johnny Weir and Tara Lipinski look like they're announcers straight from The Capitol.
https://twitter.com/udfredirect/status/961854924274323458
But especially Weir. We're getting serious Caesar Flickerman vibes.
https://twitter.com/udfredirect/status/961778919363039232
See the Johnny Weir Hunger Games resemblance?
We bet Caesar would approve.
If his luggage is any indication, there are probably many more OOTDs to come.
We can't wait to see your next Olympics ~lewk~, Johnny!