John Stamos posted the sweetest birthday message to his TV wife Lori Loughlin, and her response was equally as adorable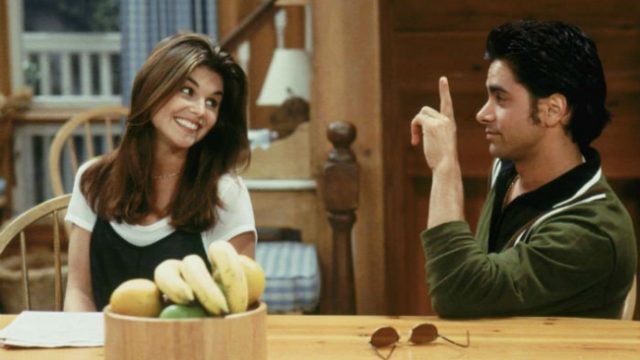 It's hard to let go of our favorite TV couples. Uncle Jesse and Aunt Becky are a prime example of this. The fact that the actors who play them — John Stamos and Lori Loughlin — are not married with two twin sons IRL is a sad truth we must wake up to each day.
We can, however, find solace in the fact that the actors remain friends. (And that John Stamos still does a perfect impression of Elvis.) Knowing that they're both coming back for Season 3 of Fuller House helps too. So maybe the Katsopolises aren't actually in love off-camera. They can still friend-love each other though. And what do friends do? They wish each other happy birthday on social media!
Stamos posted the sweetest Instagram post for Loughlin's birthday, and it proves that the two are still the best of friends.
Stamos kept his caption short but sweet: "Look who's birthday it is! Happy Happy Lori, let us all know when you're going to start looking older. XOXO"
OMG, we love them.
Some light Insta-stalking reveals that Loughlin responded to the post in everyone's favorite love language: emojis.

It seems like the two are really close, and he does have a point — Loughlin seriously doesn't age. Apparently, Aunt Becky has her own beautiful family with two lovely daughters who look just like her!
https://www.instagram.com/p/BXEpgGCj1qU
We can't help but focus on the photos on the actress's Instagram which feature her other family, though. You know, her TV family.
https://www.instagram.com/p/BV0YQFNjfLb
Loughlin captioned that amazing '90s throwback with a cool fact about the upcoming season of Fuller House: It will start streaming on September 22nd. What's the significance? That's the very same date that Full House first premiered on prime time TV 30 years ago in 1987.
Wow is right, Michelle. We can't wait to watch more Stamos-Loughlin action on the upcoming season of the reboot!