John Stamos got engaged, announced it with a Disney-themed Insta post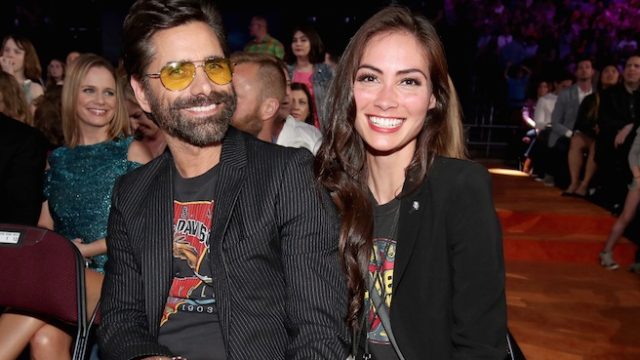 We're so sorry to be the ones to break your '90s hearts this morning, but John Stamos proposed to girlfriend Caitlin McHugh yesterday, and everyone's favorite childhood crush is officially off the market.
The couple began dating in early 2016, and it's only natural that Stamos proposed in the Most Magical Place on Earth, because they're both obsessed with Disneyland, and we are swooning…even if we're a teensy bit sad he's no longer available.
In an adorable Instagram post, Stamos and McHugh confirmed that they are about to have a real-life fairy tale wedding of their own, and we're so happy for them.
Stamos and his lady love (who is also an actor) were spotted by fans in the park yesterday, but it seems he had some pretty big plans for the day. He posted a painting by Disney artist Paul Briggs depicting the couple in front of the storied Sleeping Beauty castle, with fireworks in the background and the requisite diamond ring emoji in the caption.
And of course we secretly hope they tie the knot in their favorite place. But no pressure or anything.
While we're excited for Stamos and McHugh, it seems fans are (understandably) a bit broken-hearted over the news, with many taking to social media to post their reactions:
false
Aw, come on guys! It's not that bad. With a pairing this cute, how can you hate?
Seriously, is anything sweeter than this?
Though aging millennials may be a little sad today, we are so thrilled for the couple and cannot wait to see what will likely be a gorgeous wedding. Congrats, you two.