John Stamos and Caitlin McHugh welcomed a baby boy, and his name has such a special meaning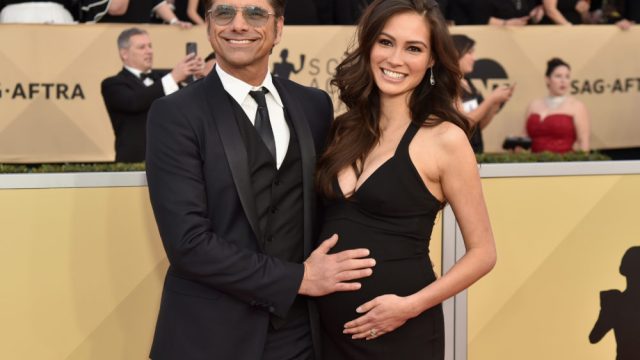 So many congratulations are in order for John Stamos and his wife Caitlin McHugh — four months after announcing they were expecting their first child, the couple has welcomed a baby boy named Billy. Stamos shared the news with his social media followers, announcing that McHugh recently gave birth. He shared the cutest photo ever and joked that he's "not just an uncle anymore…" and, yes, we're swooning.
Of course, Stamos is perhaps best known for his role as Uncle Jesse on Full House, and expanding his family with McHugh is extra sweet because he's been open about wanting to have children. And it turns out that Stamos and McHugh wanted to honor a very special presence in Stamos' life, naming their baby boy after his late father.
Stamos captioned the gorgeous black and white photo of himself cradling his new little one, "From now on, the best part of me will always be my wife and my son. Welcome Billy Stamos (named after my father)," adding the sweetest hashtags #NotJustanUncleAnymore and #Overjoyed.
No word on when McHugh gave birth, but we are so thrilled for the couple and their new addition, who's pretty much the most precious little darling we've ever seen.
This year marks the 20th anniversary of the death of Stamos' father, Bill Stamos, who was a major part of his life. Stamos lost his mom, Loretta, in 2014, and he's been open about how important his relationship with his parents was and how he wishes they could be here to celebrate these new milestones in his life. After announcing McHugh's pregnancy, Stamos told People.com, "It kills me that my parents aren't here to be part of this, but I know it probably wouldn't be happening if they weren't up there."
He added, "You know how you put your father on a pedestal, and he's a superhero, and then as you grow older, you go, 'Ah, he's just a man?' I never got to that point. Till the day he died, he was bigger than life to me."
And though we wish that Stamos' parents were here to celebrate with him, we're so happy for Stamos and McHugh as they begin their lives as a beautiful family of three. Sending all our love and well wishes their way — and we can't wait to see more photos of beautiful baby Billy.