John Oliver's gay bunny book has already sold out, but here's how you can get a copy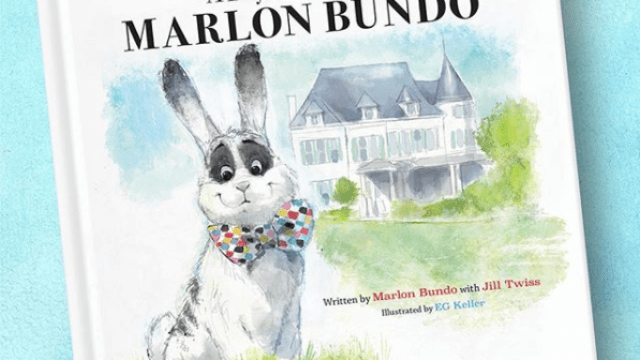 As "coincidence" would have it, HBO's Last Week Tonight host John Oliver and Vice President Mike Pence released children's books within 24 hours of each other. They both center around Marlon Bundo, the Pence family's pet rabbit. And both books give us a detailed look at a day in the life of the furry little guy. However, Oliver's version, in which Bundo happens to be a gay rabbit, has sold out (Pence's version has not).
Oliver's book, A Day in the Life of Marlon Bundo, was announced on March 18th and officially hits shelves March 23rd, and was made available for preorder via Amazon and via betterbundobook.com.
It didn't take long for Oliver's book sales to spike. By Tuesday, March 20th, the book's distributor, Hachette Book Group, reported it had 150,000 Bundo books on backorder, according to The New York Post.
The book (both the hard-cover and Kindle version) took both the #1 and #2 spots on Amazon's children's book best-seller list. Meanwhile, *cough cough* Pence's Bundo book sits behind Oliver's in the #3 spot.
That's right — Oliver may have pulled off the most historic trolling scheme in all of U.S. history (as you surely know, Mike Pence is notoriously anti-LGBTQ, and he's even bringing his Bundo book tour to the anti-LGBTQ organization Focus on the Family).
https://www.youtube.com/watch?v=rs2RlZQVXBU?feature=oembed
So, how do you snag a copy of Oliver's book for yourself?
While A Day in the Life of Marlon Bundo is currently out of stock online, you can still preorder it from Amazon here and sellers will ship to you when more copies become available (the Amazon page currently estimates between two to four weeks). You can also head to your local Barnes & Noble to grab a copy off the shelf come March 23rd.
All proceeds from Oliver's Bundo book will go towards The Trevor Project and AIDs United.
Alternatively, if you want to buy Pence's Bundo book, *ahem* there are still plenty in stock.