John Oliver and Keegan-Michael Key taking down shady used car dealers is so hilarious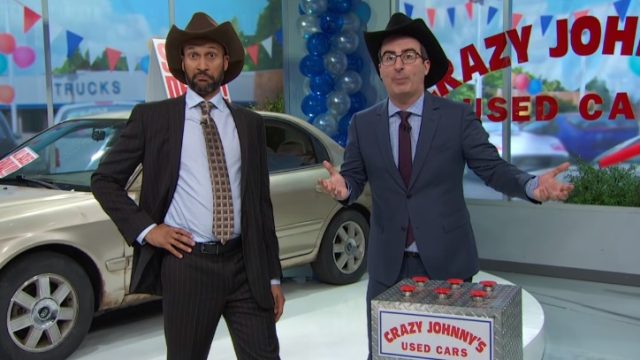 Getting a used car is always a nerve-wracking experience, especially based on all of the not-too-flattering stereotypes that used car dealers often have. Also, both dealers and certain auto programs can often take advantage of people who might not be in the best financial situation. Aware of what goes on behind the scenes of auto lending, John Oliver (along with the mega-talented Keegan-Michael Key and Bob Balaban) decided to expose the seediness of the entire thing on Last Week Tonight.
Oliver shared that 86% of American workers commute to work via car, so obviously in this day and age, a standard, no-frills car is a necessity, not just a luxury. Ads that target people for bad credit (as in, "everyone is approved!") often bring in the type of people who need a car, but are susceptible to being scammed. 
You've probably seen these types of ads before — constantly airing on television, they offer everything for nearly nothing, and help bring hope to people who truly need to drive, yet are in financial turmoil. After signing up and getting a car, there's a lot of loopholes and debts that'll end up piling up before the consumer even knows it.
Oliver also discusses car repossession for when payment is due, highlighting a case where a car was taken away with a baby still inside of it. Once a car gets repossessed, bills still come, and the car technically loses value — which means that those who are in these types of auto programs end up losing out in the end.
"You can easily end up with no car, and thousands of dollars in debt," Oliver explained.
To add humor to the situation, Oliver and Key decided to create a live skit parodying what car lending might be like in the future, offering those in the market a chance to grab a "pre-pre-pre-pre-pre-pre-pre-pre owned 2003 Kia Optima." Sounds like a deal, right? The entire segment is worth watching, but the skit starts at 14:55.
https://www.youtube.com/watch?v=4U2eDJnwz_s?feature=oembed
Four tires, an engine, and a beeping device? Amazing.
Laughter aside, it's great that Oliver spotlighted such an important issue. If you're in need of a new car, and don't have great credit, make sure you do some research before signing up for a service that sounds too good to be true.