John Oliver's old request about who becomes President is weird to watch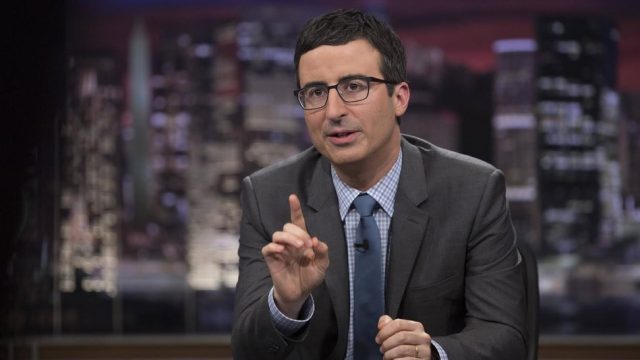 Comedians make a lot of jokes during their time on air — but we bet this is one that John Oliver never expected to come true.
Back in 2013 in a segment for The Daily Show, John Oliver urged Donald Trump to run for president in 2016. He even promised to write a campaign check himself! It wasn't the first time The Daily Show took on Trump (after all, Jon Stewart was the one who got "F**kface Von Clownstick" going), but the moment proved prophetic.
The clip of John's dare resurfaced at the end of last month when YouTube user Consumer reposted it with the title "Careful what you wish for."
https://www.youtube.com/watch?v=8ZiI6kVkPXs?feature=oembed
"Do it," John tells Trump in the clip about a potential 2016 run. "I will personally write you a campaign check now on behalf of this country which doesn't want you to be president, but which badly wants you to run."
Oliver's taking full responsibility. He even played the clip on his own talk show, Last Week Tonight, two days before Tuesday's election.
"In my defense, I have no defense for that and was hoping to think of one before finishing this sentence, and oh s**t, it's over," he said the segment.
Now that the votes are in and Trump is indeed our new President-elect, we can't help but wonder how Oliver is feeling… and if he ever wrote that check.