John Mulaney talks rejected SNL sketches, auditioning for Home Alone, and his new Netflix standup special Kid Gorgeous at Radio City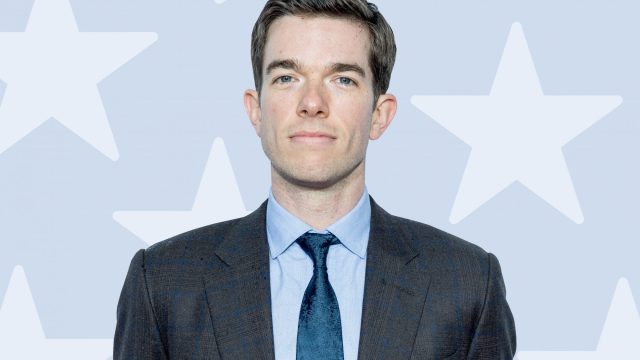 John Mulaney is having a pretty fantastic year. He co-hosted the 2018 Film Independent Spirit Awards, he hosted Saturday Night Live, and he just wrapped up his standup tour that included over 150 shows — including seven sold-out shows at New York City's iconic Radio City Music Hall. If you didn't get the chance to see it live, you're in luck: Kid Gorgeous at Radio City is now streaming on Netflix.
This is Mulaney's first standup special since 2015. He and Nick Kroll were glued at the hip for quite a while as their sketch bit Oh, Hello became a Broadway phenomenon and eventually a Netflix special. They also collaborated on Big Mouth, the hilariously awkward animated Netflix comedy series about the horrors of puberty. Even though it's been a few years, Mulaney is back, and he's better than ever. And he's going to keep coming back — he signed a multi-special deal with Netflix earlier this year, so we're going to keep getting more of him whether we like it or not. (We definitely do.)
We spoke with John Mulaney about writing Kid Gorgeous, his favorite SNL sketch that still hasn't made it past a table read, and the power of a really funny GIF. Oh, and did you know that he almost auditioned for Home Alone? Yep. Read on for the full story.
https://www.instagram.com/p/BiM7Q7OjNBm
HelloGiggles: What was the process of writing and preparing for Kid Gorgeous like? You were coming off of Oh, Hello, which is so sketch and character-driven.
John Mulaney: I knew I was going on tour and I knew I was gonna try to do about 150 shows. Coming off Oh, Hello, we were pretty drained. And Oh, Hello, even though it was sketch, was wall-to-wall jokes for 140 minutes. So it was like co-writing, with Nick [Kroll], almost two standup specials. Every line is basically a joke. So I was starting pretty fresh in February of '17. And I loved it. I loved working that way. I did a special called New in Town in 2011, and that was very much written by being on stage a lot from February to August of 2011. And this, I had some stuff as I went into the tour, but it very much was written on stage from May to February.
HG: What does the title Kid Gorgeous mean? Some of your other titles, like New in Town, are a bit more self-explanatory.
JM: This means nothing. I wanted a title sort of like The Gentleman Bandit. There was a Steely Dan line, "gentlemen loser" — I thought about Gentlemen Loser. I wanted a name like an old boxer, and I had a list of names that began with "kid." I read them to my wife at a restaurant and Kid Gorgeous is the one she laughed at the most.
https://www.instagram.com/p/BiFcCQCjE99
HG: I fell down a very deep Wikipedia hole reading about Kid Gorgeous, a metalcore band from Buffalo.
JM: I just found that out! Yes!
HG: They broke up twice, but maybe they'll get back together now because of your special.
JM: Like, can they sue me? Netflix will protect me.
HG: Do you ever get tired of being told that you're polite? I appreciate that you're so polite. But are there-
JM: Oh, no! And I apologize, I cut you off.
HG: No, I apologize! Is there anything you won't put in your act or talk about on stage?
JM: I do a lot of standup, so I can quickly tell if people will tolerate not even so much a topic from me, but more of a tone. I think that's the biggest thing comedians find: Is that audiences will react to their attitude, posture, or outlook on any subject, versus like, if you bring up a dark topic, they suddenly shut down. I don't feel all that polite on stage. I never have. I understand I'm considered clean-ish. I feel that I talk about darker things. But perhaps I package them a little differently. In life, I certainly am very happy to hear when people think I'm polite. On stage, I do like to talk about what I want to talk about, but I also genuinely want the audience to have a good time. I would not call myself antagonistic.
https://www.instagram.com/p/Bg33LIIjZG1
HG: I loved that you were able to bring back cut sketches when you hosted SNL. What's a joke or a bit or a character, from any of your comedy, that hasn't necessarily been an audience favorite, but that you'll stand by and think is funny forever and ever?
JM: Oh, that's a great question. There was a sketch that Bill Hader and I wrote about a guy who's clearly in his mid-50s wearing turquoise jewelry and denim. And he's hanging out with a bunch of college kids on the quad, and they're talking about where they want to go on spring break. And he keeps saying, "Why don't you go to…Sánta Fe?" And he keeps acting like he's a college student who's just suggesting "Sánta Fe" as a place to go. That would be one of our favorite things that not only didn't go, but was barely given a second look. But I always liked that he was pretending to be a student. And they're like, "You really go to college here?" And he goes, "Yeees! I am Tony Smith! And the proof is in my backpáck!" And he has a backpack. That would be one thing that I really wish made people laugh more.
Standup-wise, there are so many. There are so many bits I thought would work over the years. I have a bit that Pete Holmes always wants me to retry about how if I'm served cold soup, I freak out. Because I do. Because I assume soup is going to be like, piping hot brown liquid with like, steaming potatoes in it. Even if it says like, "artichoke purée gazpacho," I always am picturing a big bowl of soup. Cold soup shocks me all the time.
HG: When you go back to shows like SNL or The Chris Gethard Show, which seem like complete chaos compared to the buttoned-up world of standup specials, do you feel comfortable sliding back into the insanity?
JM: I totally feel comfortable in it. I can either be insane myself or sit there like Jimmy Stewart observing it. With The Chris Gethard Show specifically, I love it so much, and I normally just react as myself, because I'm watching him get shot with paintballs in real time and stuff. I will say I'm pretty buttoned-up, but working with Kroll, I think he and I feed an anarchy in each other. Doing Oh, Hello I felt very free. I think that informs the latest standup special.
https://www.instagram.com/p/BVRFyXdjTx6
HG: How do you think comedy has changed in the last decade or so?
Not a one of us, not one standup comic, is as funny as a good YouTube video or as a good GIF. I really believe that. A very funny GIF — I'm not being sarcastic — we can't compete. An Instagram account of a funny dog? Like, we can't compete. I think all of us keep plugging along. But I do believe the challenge of competing with a good internet response video is almost impossible.
HG: My favorite joke of yours is the bit where Mischa answers the phone. I love it so much that I searched it on Twitter once, and found that you tweeted about that moment back in 2011! Would you tweet about it today?
JM: Oh yeah! Yeah. Yeah. No. I find my Twitter very humorless, and people tell me as much. On podcasts, I often will remember a story that I think is funny, and then I'll stop myself because I want to save it for the stage. [laughs] I remember after recording [The Comeback Kid] — I had these temp jobs for a long time. Nick Kroll came up to me about the Mr. Finch joke — "Too old to be a duckling, quack quack." He was like, "I remember you coming home from work to our apartment and telling me that, word for word, and now you've done it word for word on TV, and that's incredible."
HG: You have a very long list of accomplishments-
JM: [laughs]
HG: You do! Has there been one moment where you thought, Holy moly, I've made it?
JM: I don't know what "it" is. I will say I was on stage during this tour in St. Louis, and it was a big theater, and midway through the show, I thought to myself, Oh, wow. You do standup in theaters. This is all I've ever wanted. And that was very cool. I was thrilled when I got to leave my temp job though, and just make money doing standup. So because I wanted to be a standup comedian, and I'm very grateful that it's gone well and I've been able to get some exposure, I sort of have been fundamentally content about that for a while. But I wouldn't say I've "made it." There's people like Bruno Mars who are much bigger than me. And then, of course, you know, you have your Avengers and stuff.
HG: Your Wikipedia page says: "At the age of seven, Mulaney had an opportunity to audition for the role of Kevin in the film Home Alone, but his parents declined." Can you imagine what could have been?
JM: Well, I would not have been as good as Macauly [Culkin]. He's excellent in that movie. So I am thrilled with the way it worked out. My mom told me at the doctor. She figured it would be a one-two punch if I got a booster shot and found out that they weren't going to let me audition all in one. But at that age, I was on fire. I wish I could audition now with the confidence I had when I was seven.
HG: Have you met Timothée Chalamet in real life yet? I love your running bit about how your wife is in love with him.
JM: Yes! Oh yeah. He's great. He's the nicest person in the world. I felt so silly. I don't like it when people say it's just a joke, but that's just me complaining that I'm not 21. He's a fantastic actor and an extremely nice person.
Kid Gorgeous at Radio City is now streaming on Netflix.