John McCain just supported a bill that could cut affordable health care for millions — even though he literally has cancer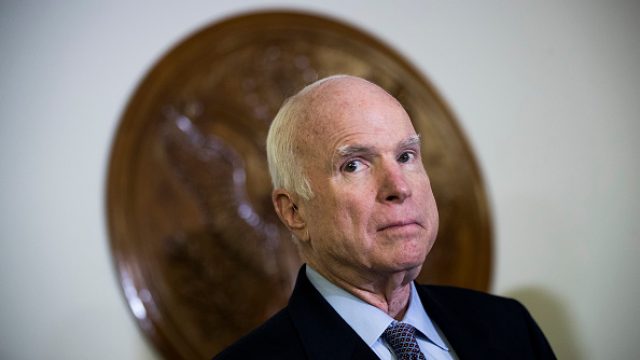 The Senate is currently debating a new tax reform bill proposed by Republican lawmakers. And Senator John McCain said he will vote for the tax bill, despite the fact that it could mean big cuts to Medicare and leave millions of Americans uninsured.
McCain, who was diagnosed with brain cancer earlier this year, issued a statement on November 30th saying he will vote for the "far from perfect" bill.
"After careful thought and consideration, I have decided to support the Senate tax reform bill," McCain's statement read. "I believe this legislation, though far from perfect, would enhance American competitiveness, boost the economy, and provide long overdue tax relief for middle class families."
The proposed tax reform bill, which has been approved by the House, would reduce the corporate tax rate from 35 to 20 percent. As a result, people making more than $1 million would see significant tax cuts, while people making $40,000-50,000 would be paying dramatically more in taxes, according to the Joint Committee on Taxation.
Experts also have said that the tax plan would increase the deficit by about $1.5 trillion. If the national debt increases by that much, automatic spending cuts could be enacted, including a possible $25 billion cut to Medicare.
McCain was one of three Republican senators to vote against Republicans' Obamacare repeal bill earlier this year. The Arizona senator had not committed to voting yes for tax reform until today, November 30th.
It's beyond frustrating to see McCain — a man with a serious later-in-life health condition — ignore the effects this bill could have on sick people. McCain is lucky to be able to afford treatment, but not everyone can. The Republican tax bill could already mean higher taxes for low-income people; they don't need to worry about losing health coverage too.
If you feel strongly about this issue, don't hesitate to reach out to your representatives ASAP.