John Legend's latest music video features baby Luna and Chrissy Teigen and will hit you in the feels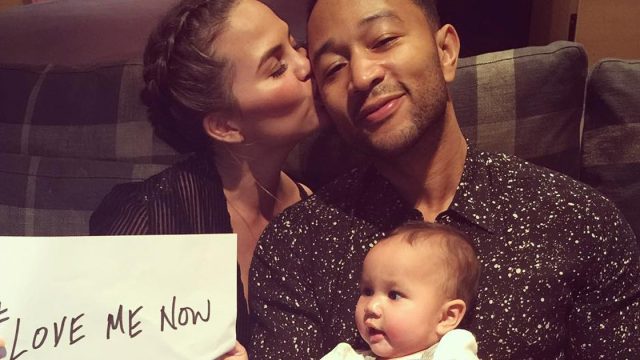 Despite it only being Monday morning, we're already feeling a lot of feelings because we've just seen John Legend's video for "Love Me Now" and it stars Chrissy Teigen, baby Luna, and loads of other scenes of love. Basically, it's so darn beautiful.
John had previously teased the fact that Chrissy and Luna would be appearing in the video, but now that we've seen the whole package we have to say that it's pretty spectacular. John has previously spoken about how having Luna has made him want to do more good in the world, and now the video for "Love Me Now" sees him acting upon that.
In a post on Instagram, John Legend explained the concept behind the video and it's totally inspiring.
Explaining how the clip was all about showcasing the different elements of love, John totally has us crying right now.
"It's been quite a time for the United States and the rest of the world as we all watched the election results come in early Wednesday morning. Some of us wept for our country. Some of us celebrated. Some of us are already taking to the streets in protest," John wrote. "You all know how I wanted and expected the election to go. I wanted us to choose unity and inclusion over building walls and singling out ethnic and religious groups for hate and suspicion. I wanted us to choose progress over yearning for some long-lost mythical era when America was supposedly greatest. I wanted us to destroy the highest glass ceiling instead of electing an admitted sexual assaulter."
Continuing, John went on to explain that in these difficult times we need more love in the world. Writing how he finds love in his family, he also said that it's important to look at those who are different from us and show love to them, too.
"The video...features a diverse group of people from all over the world. From Standing Rock to Iraq, from Orlando to the DR. Love is universal. We all need it. We all can give it. And it will ultimately win over hate. I have to believe that.
https://www.youtube.com/watch?v=NmCFY1oYDeM?feature=oembed
Isn't this video just magnificent? We're so moved by John's beautiful message and the fact that he's decided to dedicate his work to others and to help spread a message of love. What's more, we LOVE seeing more cute scenes with Chrissy and Luna…they truly are the perfect family.
It's so wonderful and inspiring to see someone promoting diversity and love, and we're so thankful to John Legend for helping spread such joy in a time where things can seem a little dark.
"Love Me Now" is the first single to be taken from John Legend's new album, Darkness and Light, which is released on December 2nd. You can pre-order the album now.