John Legend doesn't want praise for speaking out against R. Kelly—and his recent tweet perfectly explains why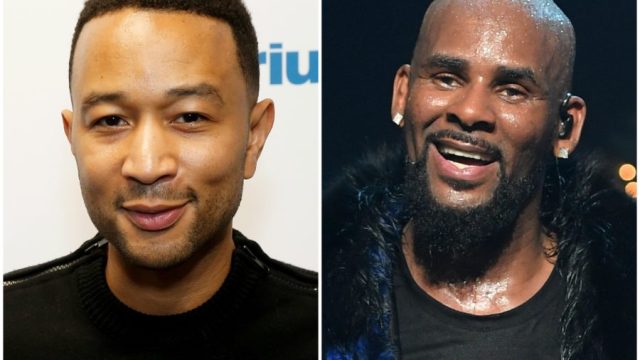 John Legend is not here for complicity. The "All Of Me" singer is the only major artist to speak out against R. Kelly in Lifetime's new documentary, Surviving R. Kelly, which premiered January 3rd. The six-part docuseries chronicles testimonials from women who claim the "Ignition" singer sexually and physically abused them over the course of decades. In an interview with Shadow and Act, executive producer Dream Hampton revealed that she had difficulty recruiting artists to speak for the series—with the exception of Legend.
"I asked Jay-Z. I asked Mary J. Blige. I asked Lil Kim, Erykah Badu, Dave Chappelle…I mean, most people just don't want to touch it, she said. "I remember Ahmir [Thompson, stage name Questlove] was like, 'I would do anything for you, but I can't do this.' It's not because they support him; it's because it's so messy and muddy. It's that turning away that has allowed this to go on.
However, Legend is not interested in praise for his decision to speak out against Kelly. On January 3rd, he tweeted:
Basically, he doesn't want accolades for simply doing what's right.
Hampton later elaborated in her interview, saying, "In the docuseries, [writer] Nelson George talks about why it's so difficult for us to turn away from someone like R. Kelly; because we don't necessarily associate the songs with him, we associate them with things in our life. So it's not when we hear 'I Believe I Can Fly' we're thinking about him, we're thinking about our niece's eighth grade graduation, or hear 'Step in the Name of Love,' it's our cousin's wedding."
News of abuse at the hands of the R&B singer began to circulate in the mainstream in 2017 (though many—especially in the industry—had known about the claims for years). In July 2017, BuzzFeed published a lengthy exposé about Kelly's alleged cult, where members of the musician's inner circle claimed the singer held women against their will in his home. And in October 2017, Rolling Stone published an interview with Kelly's ex, Kitty Jones, in which she detailed the abuse she endured.
While Legend is the only major performer to speak out against Kelly, People notes that notable figures like #MeToo founder Tarana Burke, Wendy Williams, and radio host Charlamagne Tha God also make appearances in the series.
Surviving R. Kelly airs over three nights on Lifetime, with two episodes airing on January 3rd, two more on January 4th, and the final two on January 5th—all beginning at 9 p.m. ET/PT.