John Legend Says Musicians Who Support Trump Are in the "Sunken Place"
Legend referenced the 2017 thriller 'Get Out' to drive home his point.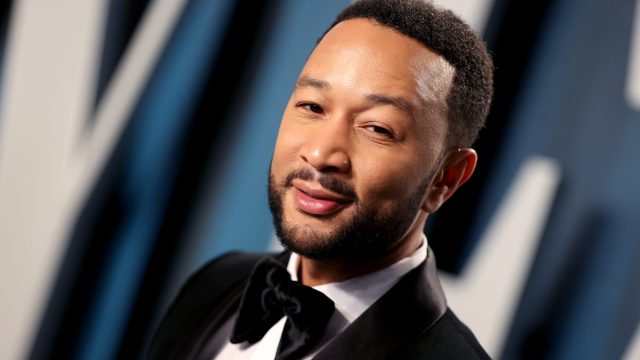 In recent weeks, several rappers have announced their support of Donald Trump for the November 3rd, 2020 presidential election, including Lil Wayne, Lil Pump, Ice Cube, and 50 Cent, seemingly in a bid by the Trump campaign to secure the support of Black voters. John Legend, a very vocal activist against the current president, had some strong words for the group of musicians endorsing Trump.
Legend spoke at a Biden-Harris campaign event in Philadelphia, Pennsylvania, on Monday, November 2nd. Addressing the crowd, he said, "Now, some people see the meanness, the bullying, the selfishness of Donald Trump and they mistake it for strength, a kind of twisted masculinity. Some see his greed and they mistake it for being good at business."
Of the rappers who have shown support for Trump, Legend said, "Some of your former favorite rappers have been taken in by these lies, joking, I think they even founded a new supergroup, it's called the Sunken Place."
The joke is a reference to the 2017 film Get Out, with the Sunken Place referring to the place a character's mind travels when they're under hypnosis.
Speaking directly to potential Black Americans, Legend said, "Trump's Platinum Plan for Black folks is nothing but fool's gold, because you can't bank on a word he says." 
Listing some of Trump's many failed promises both before and during his presidency, Legend continued, "Ask the students of Trump University. Ask all of the contractors he stiffed. Ask people his charity was supposed to help before it was shut down for being a fraud. Ask all the Black and Brown Americans who are dying from this virus and losing their jobs under his watch."
"The president isn't strong," Legend continued. "He's a coward. And his career in business and in government has been failure after failure after failure," he said. "We need a president we can trust. That's the kind of president Joe Biden will be. And he won't only reverse the damage of the last four years hand-in-hand with Senator Kamala Harris, they will build back a better economy and country than ever before."
Legend then encouraged those who haven't voted already to cast their vote in today's election.
His message is definitely one that should be heard by all, because today is the last chance for those who haven't already to use their voices, cast their votes, and help be the catalyst for change we so desperately need right now.