John Legend became the first black man to win an EGOT, and Chrissy Teigen's Insta post about it will make you cry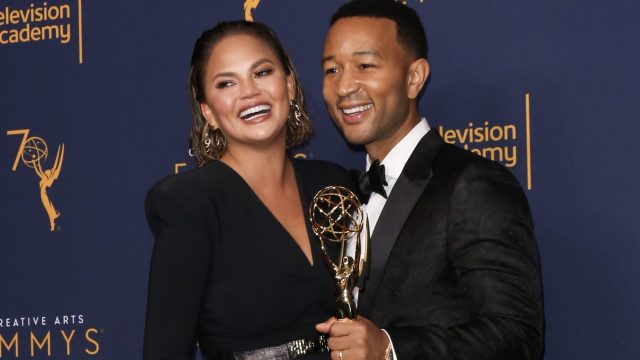 There are few creative honors higher than an EGOT—the awe-inspiring feat of winning an Emmy, Grammy, Oscar, and Tony award. These awards, respectively, celebrate achievement in television, recording, film, and theater. And until last night, only 12 people had achieved the illustrious acronym—most of them white. Which is what makes John Legend's  win at the September 9th Creative Arts Emmys even more amazing, because he's officially the first black man to ever win an EGOT.
Legend and fellow composers Lord Andrew Lloyd Webber and Sir Tim Rice each took home a Creative Arts Emmy for their work on Jesus Christ Superstar Live in Concert, which means that all three are now members of the prestigious EGOT club (Legend is also the second youngest person to receive the accolade, NBD).
Legend celebrated his big win by posing with Webber and Rice (and their new Emmy awards), taking to Instagram and captioning the joyful shot, "So happy to be part of this team. So honored they trusted me to play Jesus Christ. So amazed to be in such rarefied air."
Of course, Legend's wife, Chrissy Teigen, was on hand to celebrate the momentous occasion with her husband, posting several Instagram photos in his honor. And in true Teigen fashion, they were equal parts sweet and hilarious. First, she shared a photo of all three new EGOTs, writing simply "EGOT GOATS." (That's "greatest of all time," FYI.)
She then shared a sweet shot of herself planting a big 'ol smooch on her guy, writing, "my incredible man. what a surreal life."
But perhaps the sweetest moment of the night?
Teigen shared a video of the moment that Legend got home and placed the award alongside his many other trophies, climbing on a piano stool to place it on the top shelf.  He looks up at it in awe, as Teigen whispers, "Perfect."
(Of course, the caption is a not-so-subtle nod to the fact that people think Legend looks like Arthur the aardvark, because Teigen can't help but troll her husband—even during meaningful moments.)
All jokes aside, this is a tremendous honor for Legend, and we couldn't be prouder. Congratulations to the brand new EGOT recipients on winning the holy grail of achievements in artistry. Bravo, gentlemen.