11 times John Legend and Chrissy Teigen have politely shaded each other on social media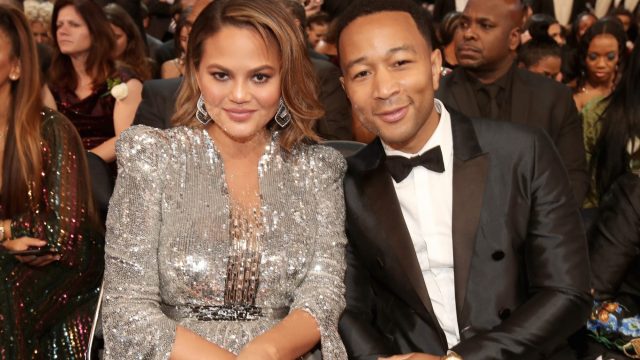 We've said it time and time again, but we think it's still worth repeating: Chrissy Teigen and John Legend are the epitome of #relationshipgoals. But we're not just saying it because they give us hope when we feel like we'd never find happiness and love. We also adore their sense of humor, and the fact that they both have a penchant for grilling each other on social media. While we certainly live for their occasional lovey-dovey moments, the times when they publicly shade each other are our absolute favorites.
We all know that Chrissy is the ultimate queen of Twitter clapbacks, and it appears that John may have learned a lesson or two from her. Below is a rundown of the best social media exchanges, courtesy of our favorite celebrity couple:
1 When Chrissy refuses to let the Arthur joke die
https://twitter.com/udfredirect/status/834143194619138048
Anyone who's hung around on the internet long enough would know that John is often teased for his striking resemblance to the beloved childhood cartoon Arthur. He isn't exactly pleased with the comparison, but Chrissy doesn't care and is actually now the leader of the John Looks Like Arthur pack. The trolling even went beyond the confines of Twitter and made its way to a Google Duo commercial. Amazing.
2When she publicly revealed that she's pulling a Gone Girl if she gets murdered 
https://twitter.com/udfredirect/status/505774795037106177
I don't know about you, but we think this plan is genius, TBH. To make sure that she remains the only woman in John's life, she has no problem framing him for murder so he gets locked up and never finds love again. That's true love right there.
3When she had doubts about her decision to marry John after she found this gem  
We've all made questionable fashion choices in the past, and Chrissy made sure that the public never forgets about John's sartorial mishaps. When she found an old photo album during their move, she was quick to show it on Twitter, saying, "simultaneously unpacking and filing for divorce."
Don't worry, she'll never do it though. Back when a fan claimed that they would never believe in love if the two ever separated, Chrissy responded with, "Too lazy. Hate paperwork." The woman has a point.
4When she kept John's ego in check
https://twitter.com/udfredirect/status/770866560944582656
John occasionally humble brags on social media, but Chrissy likes to put him in his place when he does. When he claimed that he's "one of the best" at singing the National Anthem, she kept him humble by saying that he's only "okay" at it. That's very Kendrick Lamar of you, Chrissy.
[listheadernr=5]When Chrissy vied for the recognition she rightfully deserves[/listheader]
https://twitter.com/udfredirect/status/541073041091219456
Okay, we gotta give credit where credit is due. We all praised John for releasing the ultimate wedding anthem that is "All of Me," but we seemingly forgot that Chrissy is the sole reason why the song exists anyway.
6When she revealed that she likes trolling John via text, too
https://twitter.com/udfredirect/status/504427837487456256
If this is the way they keep the fire in their relationship alive, then so be it.
7 When she shaded John for attending an awards show instead of taking care of their newborn baby
Chrissy spotted John on TV giving an interview at the 2018 Billboard Music Awards and jokingly shamed him for being somewhere else instead of tending to their newborn son, Miles. Then again, it's also a subtle jab at people who judge new parents for going right back to work after giving birth. Nice one, Teigen!
8When John told everyone that their relationship is only a "marriage of convenience" 
John does his fair share of trolling, too. When he called an outlet for reporting a false rumor about how their relationship started, Chrissy asked him if he's actually in love with her. To which he responded, "It's a marriage of convenience. Everyone knows this." We can't with these two.
9When John threatened to unfollow his wife
https://twitter.com/udfredirect/status/394319280507863041
A drunk Chrissy once got excited about the fact that she's being followed by the 10-time Grammy Award winner, only to snap back to reality and remember that they're actually like, married. He joked about unfollowing her, but Chrissy retorted that doing so is a "racist" move.
10When Chrissy publicly proclaimed that John is not her favorite The Voice guest adviser
https://twitter.com/udfredirect/status/846579630945427456
https://twitter.com/udfredirect/status/846582139785175045
When she called out John for constantly stealing phone chargers[/listheader]
We have to hand it to Chrissy for this one. Having to continuously buy phone chargers because someone keeps taking them is incredibly annoying, especially when you know the culprit isn't planning on stopping any time soon. Learn your lesson, John!