John Legend opened up about Luna being a big sister, and he sounds just like any other adorably nervous dad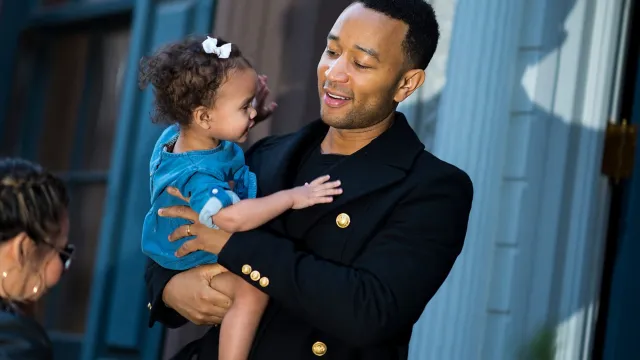 It's official. We might be low-key obsessed with Chrissy Teigen and John Legend's family. After throwing 2-year-old Luna an epic Sesame Street-themed birthday party last week, the couple is busy preparing for the birth of their second child. As the days tick down to Chrissy's due date in June, John opened up about Luna and how she might transition into her role as big sister. That's right, you can cue the awwws now.
During a panel at the Tribeca Film Festival on Thursday, Legend admitted that Luna is "running the house right now." TBH, we don't even blame her. Going from being an only child to having a sibling is always tough, especially for someone so young.
"Chrissy is due a month from now. I don't know if Luna is ready, Legend said at the Tribeca Talks: Storytellers event, according to Hollywood Life. "I don't think she has any idea about being a big sister, actually. My friends keep trying to give me advice, but I think Luna is definitely going to be an issue!
That's totally understandable, especially since Luna is only 2 years old. Besides, who else thinks John sounds exactly like every other worried dad out there? Yeah, it's seriously adorable.
We love how John Legend is talking about this, because it's relatable AF.
This isn't the first time he and Chrissy have been refreshingly honest about the struggles of parenthood, either. And even though we know Luna will be a fantastic big sister, we hope it isn't the last.
"They say I should bring Luna IN to him, so we aren't all sitting with him and she's like 'WHO DIS?' She's two and she's talking a lot. But she's running the house right now, and she's used to being the center of everything, Legend added. "We'll see how she shares the spotlight.
We can't wait for the newest little Legend to be born, and we look forward to seeing Luna fall in love with her baby brother. And who knows? Maybe if we're lucky, Chrissy and John will adopt us into their growing family.
Hey, a girl can dream.