John Legend Credits Chrissy Teigen for Reforming His Cheating Ways
"Chrissy has 12 million Twitter followers. If I were to do anything, it would be career suicide."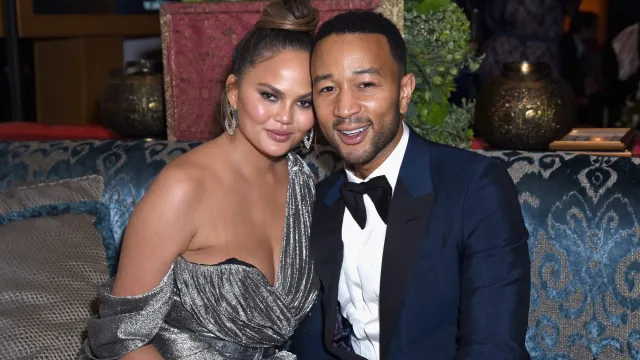 We can always count on Chrissy Teigen and John Legend to keep it real—especially when it comes to their relationship. But in a new interview, Legend got super real about his history of cheating in his relationships prior to meeting Teigen, revealing that his past behavior with women was "dishonest" and "selfish."
The music icon appeared on the July 13th episode of Dax Shepard's Armchair Expert podcast, and Shepard asked him about "cheating songs" on his albums, seemingly alluding to "Number One," the third single from his debut album in which the lyrics describe someone cheating. Legend then admitted that he was a cheater in his 20s, before he was famous.
"I think what happened for me, you go through a lot of your life in your teens and I was younger than everybody in high school and college, and so I just didn't get a lot of girls," Legend said. "When I started to get that attention, I loved it. I just ate it up."
It seems he managed to avoid being called out for cheating by keeping his relationships "ill-defined," but noting that, "it was really cheating. You can try to get off on technicalities…I definitely was dishonest and selfish and just enjoyed this new attention I was getting."
Legend calling purposefully ill-defined relationships a cover for cheating feels so real, we're nodding along.
If this admission has you ready to angrily tweet at Legend to protect his darling wife at all costs, fear not. The "Bigger Love" singer shared that meeting Teigen changed his "whole life."
"At a certain point, you just realize you're happier being honest. You're happier being faithful and being in love with one person," he said. "And at a certain point, I just decided that person was Chrissy. I decided I wasn't gonna mess with somebody else anymore."
Abandoning his bad behavior helped him feel "lighter," adding, "when you're able to be honest with the person and you aren't hiding texts, your mind is freer and everything is better."
When Shepard admitted that he feels "pressure" knowing that people look at him and wife Kristen Bell as "relationship goals," Legend admitted he feels the opposite way.
"I feel like it almost makes it less likely that I would do anything to fuck it up. Chrissy has 12 million Twitter followers. If I were to do anything, it would be career suicide," he said. "It would be terrible. It just gives you another reason to not fuck it up."
Honestly, it's true. The Twitter masses would probably riot in Teigen's defense, and we can't say we'd blame 'em. To hear about Legend's history of cheating, check out his full interview on Armchair Expert. The pair discuss their infidelities around the 40-minute mark.