John Legend opens up about how baby Luna has given him more reason to do good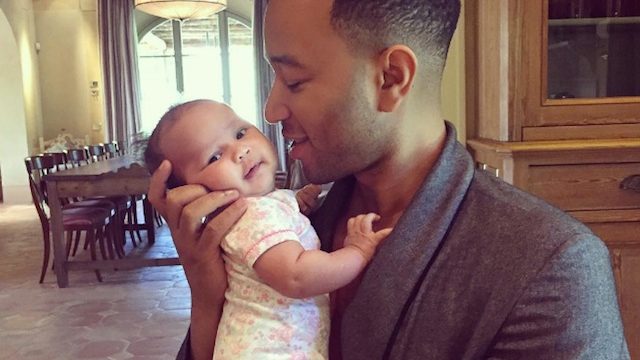 John Legend's angelic voice is already a wonderful gift to the universe, but the new dad is using his celebrity power to do more good. He wants his daughter Luna to grow up in a better world.
John Legend made a special song for his daughter Luna. Swooooon.
Ahead of his Belvedere (RED) campaign launch, the hitmaker told People magazine that he's "always wanted to give back but [being a father] just gives you even more reason to want the world to be a better place because you want the world to be better for your kids than it was for you."
Belvedere's website says it will donate 50% of profits from Legend's special edition (RED) collection to the Global Fund to help fight HIV/AIDS in Africa. The bottles feature special artwork by South African artist Esther Mahlangu.
https://www.instagram.com/p/BJohmvthfBW
Legend also opened up about his life as a new father, his wife Chrissy Teigen, and building a family. The Hollywood couple welcomed their first child, Luna, in April.
"It's just so much love, you feel that connection with your wife and with your daughter, and I think it's a powerful thing to start building a family," he told People. "I love that feeling."
Even though Luna is just five months old, Legend told the magazine she already has a "very sweet" personality.
"She seems to be able to handle a lot of different environments because she's traveled a lot with us already," he explained. "We've been to Italy, and to France and New York, and Mexico with her, and so she's traveled quite a lot with us already. She's been able to handle all that so hopefully we're getting her prepared for the kind of life we live."
The "Start" singer's biggest daddy achievements are diaper changing, burping and, as he put it, "I can do a good bottle feeding." Legend has also mastered putting baby Luna to sleep by singing his daughter little jingles before bedtime.
According to the People, the hitmaker teased that there will be a special song just for Luna on his new album, and we can expect to hear it soon.