John Legend said holding baby Luna brought him closer to Chrissy Teigen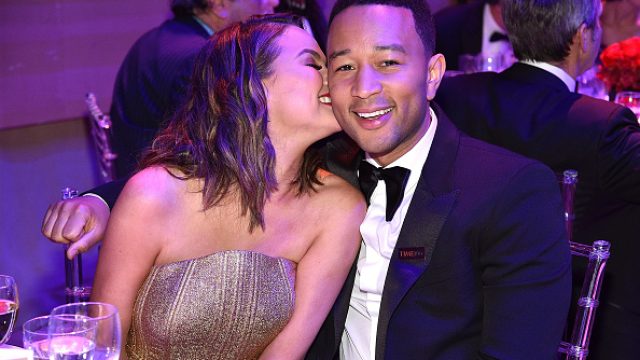 There's no denying that we admire everything about John Legend and Chrissy Teigen's relationship. The famous couple are adorably devoted to each other. Plus, they have some of the best senses of humor on earth.
And the sweetness of the whole interaction is making us melt.
Legend was visiting comedian and host Stephen Colbert on The Late Show. Being a father himself, Colbert brought up the topic of parenting. And, while he retained much of his trademark humor, the singer couldn't help but gush about his family.
https://www.youtube.com/watch?v=8YZPmKKj6hY?feature=oembed
Colbert talked about how so much of Legend's work centers around love. So it only seems natural that baby Luna would introduce a new kind of love to the singer.
Legend responded, "It's a different kind of love. It's very pure, it's unconditional, but they haven't earned it yet."
It's no surprise that the singer is overwhelmed with love for his adorable daughter.
But what was more surprising, was that he said holding his daughter for the first time strengthened the already intense connection he felt with his wife, Chrissy.
He explained, "Oh, it's beautiful, it's very emotional, and it brings you and your wife closer together. It's a very like powerful feeling to see the product of your love right there in front of you."
As if we needed another reason to swoon over this wonderful couple. Now we know that the beautiful addition to their family has only made them fall even more in love with each other.
We dig the mutual adoration these two share. And if adding to their delightful family makes them even happier, we say keep it up!