Here is the studio version of that beautiful John Legend and Cynthia Erivo duet from the Grammys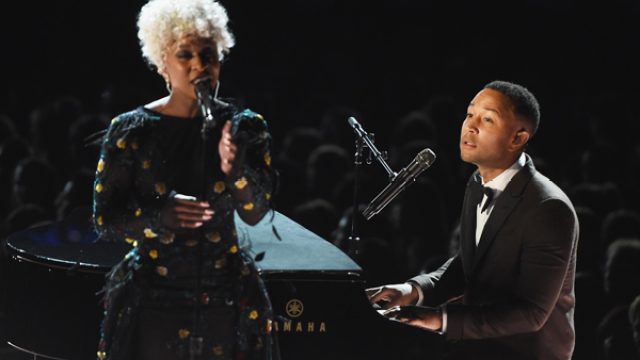 On Sunday, John Legend and Cynthia Erivo performed the most incredible duet at the 59th Grammy Awards. We now have the studio version of Legend and Erivo's tune, and we can't stop listening to it on repeat.
There were a lot of amazing performances at the 2017 Grammy Awards, but this duet was definitely among the top five. Legend and Erivo had the task of singing during the "In Memoriam" segment.
They covered "God Only Knows" by the Beach Boys, and it was beautiful. When we watched the performance live we got chills. It was SO good.
On Monday, the duo released a full-length version of the song and it's just as good as we remembered.
"Thank you to the @recordingacademy for having me on the #GRAMMYs. @cynthiaerivo and I recorded a very special version of our duet of "God Only Knows" featuring amazing production by @breakmirrors with full string orchestration. You can hear it now on @applemusic," Legend wrote on his Instagram.
You can check out the wonderful rendition on Apple Music now or listen to it below:
https://www.youtube.com/watch?v=7R7kPZF8wRA?feature=oembed
If you want to remember the actual live performance, Erivo shared a clip from the magical performance on her Instagram account on Monday.
"This is all I've seen of the performance so I'm trusting your reactions, all I can say is that I had an incredible time!! Thank you @johnlegend for being an incredible partner on that stage. #godonlyknows on Apple Music now xxx," she captioned the video.
What are you waiting for? Go listen to "God Only Knows" and prepare for a flood of emotions coming your way!