Steve Carell revealed his favorite The Office moment to John Krasinski, and we can't stop laughing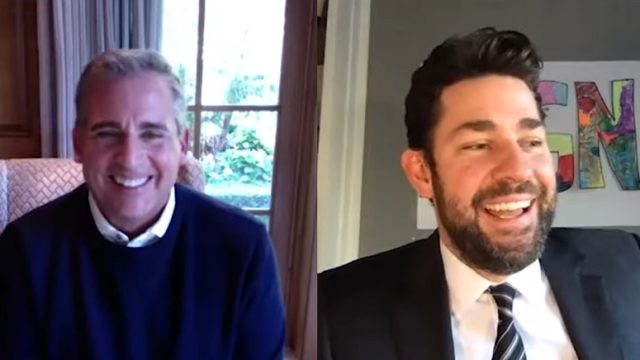 Actor John Krasinski is out here doing the work that is keeping us going right now amid the coronavirus (COVID-19) pandemic. On March 29th, Krasinski uploaded the first episode of his new YouTube series "Some Good News," in which he plans to share all of the silver linings and warm and fuzzy stories that don't make the cut on daily newscasts. This week, after sharing some heartfelt stories sent to him via social media, Krasinski was joined by his former The Office costar Steve Carell, and the two talked about their favorite moments from the iconic show.
"[This week] it was the 15th anniversary of The Office, and for more on that story, we go now to our entertainment correspondent, Steve Carell," Krasinski joked as he introduced his former costar to the show.
Of course, all fans of The Office have their favorite episode, bit, and plotline. So it should be no surprise that cast members also have standout scenes that were their favorite to shoot. When Krasinski asked Carell about his favorite memory or moment from filming the series, Carell answered right away. Season 4, Episode 13—aka the memorable "Dinner Party" episode.
"All of our exchange around the micro flatscreen TV," Carell told Krasinski. "The articulating screen."
Krasinski then rolled footage from that season's blooper reel of the cast. Carell, Krasinski, Jenna Fisher, and Melora Hardin all totally lose it when Carell's Michael Scott pushes the TV into the wall to "save space."
The pair also briefly touched upon the "Fun Run" episode—which they said was shot on a 105-degree day—and the episode in which Michael Scott shows up to an office party as Santa.
Krasinski said, "I remember when you…played Santa…and Brian [Baumgartner, who played Kevin Malone]—thank god—was chosen to sit on your lap."
Krasinski explained that he was supposed to be the "button" of the scene, meaning he would deliver a classic "Jim face" reaction. "I was never there," he said. "Because by the time they got to the switch pan to me, I was out. I was either on the floor or I had left the room" because he had been laughing so hard.
"Part of what was so much fun about it is that everybody in the cast was rooting for everybody else," Carell said. "People would step back when it was time for other people to shine, and celebrate it."
Carell continued, "Some of my most fond memories, personally or professionally, are entwined and connected with that show."
It looks like Krasinski's "Some Good News" is working because we're smiling from ear to ear. And being reminded of all these great scenes is giving us yet another reason to marathon The Office while self-quarantining.
As information about the coronavirus pandemic rapidly changes, HelloGiggles is committed to providing accurate and helpful coverage to our readers. As such, some of the information in this story may have changed after publication. For the latest on COVID-19, we encourage you to use online resources from CDC, WHO, and local public health departments, and visit our coronavirus hub.