John Krasinski answered all your burning Office questions in his Google autocomplete interview, and this isn't a Jim Halpert prank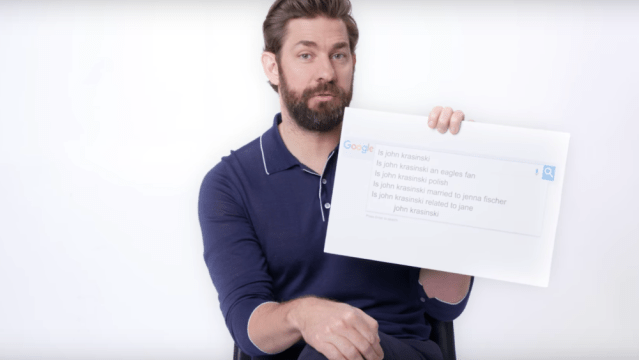 John Krasinski may be one of the biggest stars in Hollywood, but the actor and director still looks back very fondly on his TV days. Ahead of his upcoming film A Quiet Place opening in theaters this weekend, Krasinski stopped by Wired to answer the most-searched questions about himself on the internet.
While the Hollars actor used the autocomplete interview to set the record straight about some very pressing matters — including how he's married to Emily Blunt, *not* The Office costar Jenna Fischer, and that he's still not over his beloved New England Patriots losing to the Philadelphia Eagles in the Super Bowl — John Krasinski spent a lot of time reminiscing about his time on the legendary NBC sitcom.
The actor opened up about literally becoming famous overnight after being cast as Jim in The Office, adding that being on the show was "the greatest honor." He said, "I was on a show called The Office and I literally became famous overnight. One day I was a waiter, and the next day I was Jim from The Office. It has been the greatest honor of my life to be able to have that crazy opportunity so I appreciate it."
John Krasinski also brought up his now-famous audition story, in which he unknowingly expressed doubts about the success of a U.S. Office remake to creator Greg Daniels.
"I actually wanted to join the U.S. [version of The Office] because of the U.K. show. It was my favorite show ever. And I said it was so perfect, that the Americans would only screw it up. I said that in my audition, and the guy I was talking to was like, 'I'm the guy creating the show and will be your boss. Not anymore.' And it turns out I got the job."
Krasinski also gave the most heartwarming answer when asked if he is friends with Rainn Wilson.
The actor shared that during the nine-season run of the series, the cast of The Office never struggled to get along and that he considers them to be family. He said, "Luckily, everybody on The Office is great friends. I remember somebody asking me, 'What season did you guys start hating each other?' And I said, 'Never.' Truly to the last day, they were more than friends, they're family."
Check out the full autocomplete interview.
https://www.youtube.com/watch?v=guRbfQFddfg?feature=oembed
Does this mean an Office reboot is right around the corner? We're keeping our fingers crossed! In the meantime, we can't wait for A Quiet Place to terrify theaters, starting April 6th.