John Krasinski says this is when he knew he "married up" with Emily Blunt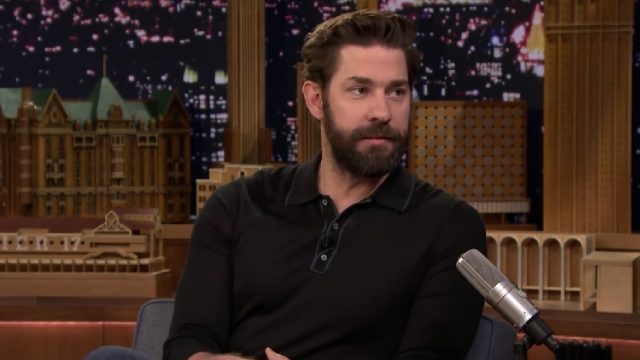 Two of our favorite humans, John Krasinski and Emily Blunt, became an item back in 2008 and wed in 2010. They currently share two daughters — Hazel and Violet.
Krasinski has always been open about how much he adores Blunt, once admitting on The Ellen DeGeneres Show that it was pretty much love at first sight when he met her. And while chatting with Jimmy Fallon on The Tonight Show last night, April 3rd, the actor revealed the moment he realized he had "married up" (lol). Apparently it was all thanks to a conversation he had with a Customs agent in London.
It seems not everyone is a fan of the American Office, and Krasinski — who went to visit Blunt on the set of Mary Poppins on a regular basis — wasn't recognized by the airport employee. When he explained who he was and why he was there, the agent couldn't believe that someone like him was actually romantically involved with Blunt.
"You?!...You. You married Emily Blunt?" the guard said to him, according to Krasinski.
https://www.youtube.com/watch?v=54z8jWNM0bE?feature=oembed
Krasinski said the clerk almost seemed frustrated after that. Thus, he concluded, he married up (we, of course, think there was no marrying up or down — the duo are perfect IOHO!).
Krasinski was on the show to promote his new movie, A Quiet Place. The thriller, which also stars Blunt, was directed by Krasinski, and he also has a starring role. Aside from its stellar Rotten Tomatoes score, we already know it's going to be good — because it's Emily Blunt and John Krasinski, people!