John Krasinski and Emily Blunt are officially the world's cutest parents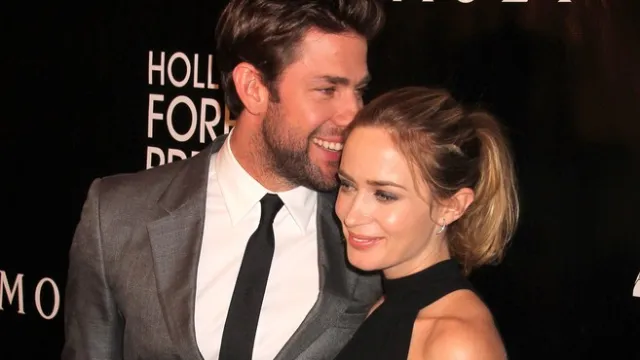 There are some Hollywood couples so cute you just want to force them to live in the house next to you and be your best friends (we're looking at you, Kristen Bell and Dax Shepard). John Krasinski and Emily Blunt continue to top this list, especially since they became parents.
For one thing, Krasinski couldn't stop praising Emily's mothering skills and talking about their adorable daughter, Hazel, during interviews for his latest film, 13 Hours. Despite the fact that the movie is a hard-hitting action flick that investigates the men who fought at the US Embassy during the Benghazi attack, Krasinksi peppered his interviews with gushing over his wife and daughter.
Speaking with Stephen Colbert on The Late Show, Krasinski told the host that his "line" for getting Emily to date him was staring at her with his mouth hanging open. More recently, Krasinski got even more emotional while chatting with Hello! "When you become a mother, you show a whole new side of yourself — and for Emily, that happened immediately," he recalled. "The exact moment our daughter arrived, she turned into this unbelievably caring and loving mother and I learn from her about parenthood every day."
Little Hazel, despite being raised primarily in America, is also getting the benefit of a bi-cultural upbringing thanks to her American dad and British mom. Krasinski reported that he accidentally "blew her little brain" when he created some cultural confusion over the holidays. "She had a big shock before Christmas because we watch 'Peppa Pig' in our house, who talks about Father Christmas, and then when I came along and called him Santa Claus instead and she realized I was talking about the same person, she got very confused."
Hazel will luckily soon have some company to figuring out mummy and daddy's weird habit of giving everything different names: The couple recently confirmed to Us Weekly that they are expecting a second child! Just when we thought they had reached peak adorableness!