Dream team alert: Emily Blunt and John Krasinski will star in a movie *together*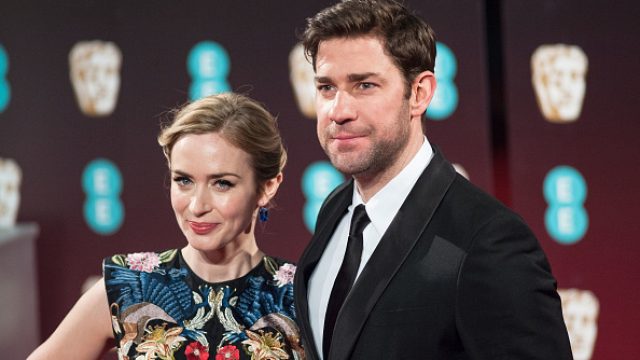 All of the (metaphorical) stars have aligned to give us THIS the greatest gift the filmic powers that be have ever bestowed upon us: Emily Blunt and John Krasinski will co-star in a movie together. They're, like, one of our all time fave couples in Hollywood (and let's be real, in general) so we're increeeeedibly excited to see them play off of one another on the big screen.
The film is called A Quiet Place, and it's going to be Krasinski's third directorial foray, and he's also going to write it, which is pretty cool. No huge surprise that he wanted his wife to star opposite him, but obviously Blunt is phenomenally talented and deserves ALL THE ROLES.
We don't know what A Quiet Place is about yet, but since it seems to follow the desire Krasinski expressed to producers to do something in the vein of The Purge and Ouija, we think it's gonna be spooky.
Got to admit, we were hoping for some kind of real-life-to-screen rom-com because John and Emily are SO charming together, but we super respect their desire to continue to push themselves in new directions creatively.
A Quiet Place
will be produced by Michael Bay and his partners, so we're definitely expecting big things from this all around powerhouse team.
But to be perfectly honest, we're happy with this couple doing literally anything together, so we're pretty sure we're going to love it no matter what.