John Krasinski adoringly teased wife Emily Blunt about liking her former costar, and we've never loved them more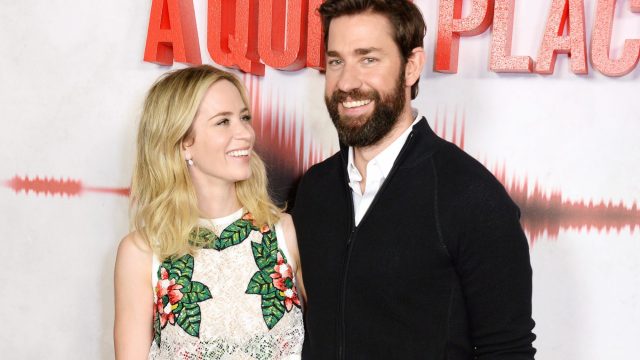 If there's one thing we love about celebrity couple John Krasinski and Emily Blunt, it's that they can definitely take a joke. The Hollywood spouses recently appeared on The Graham Norton Show to promote their new movie, A Quiet Place — and to poke a bit of fun at one another, naturally.
During the segment, Krasinski, 38, said he'd been a longtime fan of Blunt's before they even met. It seems the actor and director of A Quiet Place was especially blown away by her 2006 film, The Devil Wears Prada, confessing he'd seen it "72 times."
"It's one of those things that back in the day, us elderly people used to channel surf. Nobody does that anymore," Krasinski added. "It's just one of those movies that whenever you're going through the channels, you just stop and you look."
Blunt, who co-stars opposite her husband in A Quiet Place, chimed in and said she still catches him watching The Devil Wears Prada quite often at home. "There's a sort of montage sequence where Anne Hathaway's got numerous fabulous outfits that they go through," Blunt said. "And John, one day I came home, and he was watching it and he was watching the montage bit. And he goes, 'That's my favorite outfit.'"
Krasinski quickly (and jokingly) fired back at his wife, saying: "I couldn't get Annie and so I was like, 'Ohhhh…'"
Krasinski also talked about what it was like working with *the* Emily Blunt for the first time in A Quiet Place, which was released in theaters Friday, April 6th.
"It sounds really sappy, but it's true: I think it's the greatest collaboration I've ever had in my career," he said. "I'd never seen her work. And when you're actually in the room when she does what she does, it honestly changes the air in the room. Everyone is just completely and totally stunned by what she does."
Watch the cute AF interview here:
https://www.youtube.com/watch?v=GjJKdQTD1bc?feature=oembed
Aren't Emily Blunt and John Krasinski adorable together? We hope they never change.