John Krasinski's only in the trailer for his new TV show for 9 seconds, and already this is a Jim Halpert we've never seen before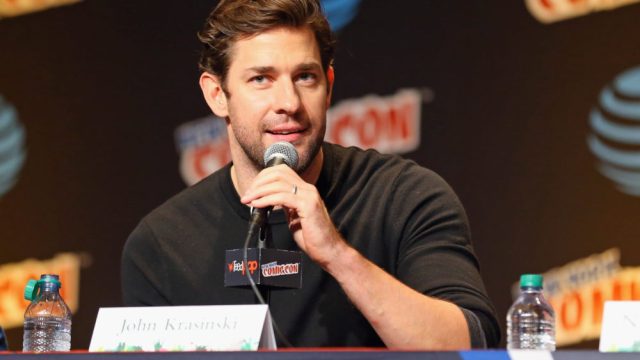 Jim Halpert who?
John Krasinski is making his grand return to TV and he's nothing like the underachieving office crush we knew and loved for nine seasons on The Office. Today, we got our first look at Krasinski in the upcoming Amazon series Tom Clancy's Jack Ryan, which he also executive produces. The actor, who plays the title character, was been conspicuously absent from earlier trailers for the series, which will be released on Amazon in 2018.
The series follows CIA operative Jack Ryan as he attempts to stop "a new breed of terrorism that threatens destruction on a global scale."
https://www.youtube.com/watch?v=fJiaYnmUw60?feature=oembed
Okay, while he's barely in the trailer, it certainly seems like Jack Ryan is someone we *don't* wish to cross.
Co-created and executive produced by Lost's Carlton Cuse and Almost Human's Graham Roland and costarring Abbie Cornish and Wendell Pierce, the series will depict a young Jack Ryan as he sets out and quickly becomes entangled with his first field mission.
Krasinski's Jack Ryan is just the latest of many on-screen portrayals of the iconic Tom Clancy character. Alec Baldwin is famously the first to bring Ryan to life in the classic cold war film The Hunt for Red October. Harrison Ford, Ben Affleck, and most recently Chris Pine, have portrayed Ryan in film. The Amazon series will be the first television portrayal of the Clancy character, although according to executive producer Daniel Stackheim, the series won't be based on any of the novels in particular.
"It's an original story, so it's not an adaptation of any of the novels, Sackheim told IndieWire over the summer. "But I think it's inspired in the same way as the Harrison Ford movies.
The eight-episode first season will begin streaming on Amazon early next year.