This $12 Shampoo Keeps My Blonde Hair Bright Between Salon Visits
"I can't always get that just-walked-out-of-the-salon brightness, but this shampoo does a pretty damn good job of mimicking it."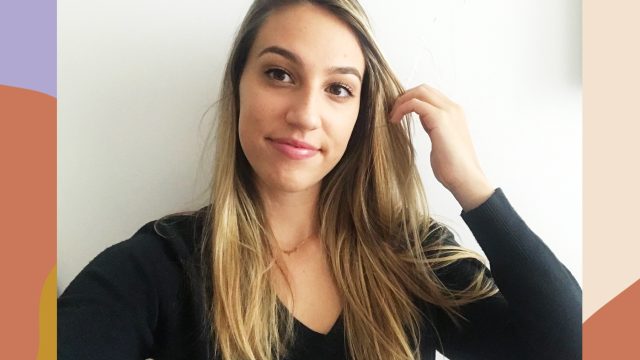 Welcome to Game Changers, a weekly series in which we reveal the holy-grail beauty products we're loving now—the ones that saved our hair, cleared our skin, and, in some way, changed our lives.
The stereotype that having blonde hair equates to being high-maintenance is wildly overplayed, but as someone who has diligently dyed her hair lighter for the last 10 years, I can't totally disagree with it. Maintaining a healthy, bright, and shiny blonde takes effort—especially if your natural color falls somewhere between light brown and dark dirty blonde like mine does. The chemicals in our water can strip the color, blonde hair can fade or oxidize in the sun, and when our roots grow out it's very obvious. So if you think getting highlights every few months for the last decade sounds like a lot of upkeep, it is.
That's why I'm always on the hunt for products that keep my blonde hair looking fresh in between foil appointments. Enter: John Frieda's Go Blonder shampoo—a staple in my shower that costs way less than a trip to the salon and delivers impressive results.
Shop it! $11.99, amazon.com
I should make it clear first that although this shampoo is color-depositing, it won't magically turn you into a blonde if you have dark brown hair. However, if your hair is highlighted, color-treated, or naturally blonde, it will brighten your strands. When I use it, it lightens my color just enough to make it look like I was out in the sun for a full day. The result is always subtle and natural, never brassy.
The shampoo uses chamomile extract and lemon peel that gradually brighten the hair. To counteract any brassiness, the formula also deposits yellow tones to revive dull or muted blonde hues. Plus, it doesn't contain any ammonia or peroxide like some other lighteners do, so if you're worried about your hair turning a not-so-cute shade of orange, I can assure you that the John Frieda Go Blonder shampoo will not do that.
The shampoo itself comes out in a pale yellow color that forms a thick, luscious lather. It easily works into the hair and leaves it feeling and smelling clean. The lightening effect is dependent on how frequently you use it, so the more you use it the more noticeably blonde your hair will get. According to the packaging, it can lighten hair up to two shades after regular use. 
Though it is formulated to be gentle enough to be used daily, I will say that it can be a little drying. Because of this, I'd recommend swapping this one out for a hydrating shampoo a few times a week and following up with a good hair mask. Personally, I use it once a week to keep my color looking fresh. I can't always get that just-walked-out-of-the-salon brightness, but this shampoo does a pretty damn good job of mimicking it.