John Boyega Said Non-White 'Star Wars' Characters Were "Pushed to the Side"
"You guys knew what to do with Daisy Ridley, you knew what to do with Adam Driver."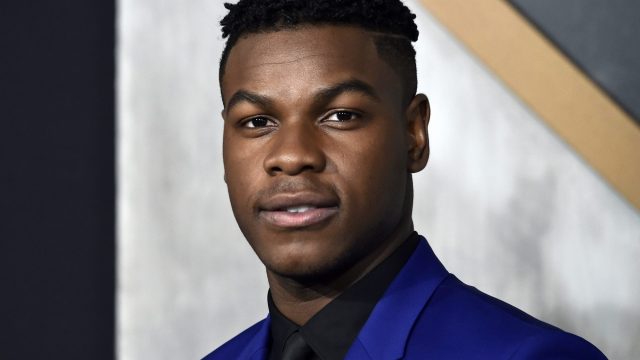 With anything Star Wars, not everyone is going to be on the same page, but it's hard to deny that the character arc for John Boyega's character, Finn, was all over the place. One person who certainly isn't denying that is the actor himself. In a new interview with British GQ, Boyega talks about his Star Wars experience, including the fact that non-white characters, like his own, were "pushed to the side." 
In the first film of the trilogy, The Force Awakens, Finn was an incredibly intriguing character: a Stormtrooper who abandoned his post to fight with the Resistance and possibly had a connection to the Force. In the second movie, The Last Jedi, he was relegated to a secondary storyline with another non-white actor, Kelly Marie Tran. For the final film, The Rise of Skywalker, he was on full sidekick status with Force sensitivity, apparently, there, but entirely too glossed over. 
"You get yourself involved in projects and you're not necessarily going to like everything," Boyega told GQ about starring in the franchise. "[But] what I would say to Disney is do not bring out a Black character, market them to be much more important in the franchise than they are and then have them pushed to the side. It's not good. I'll say it straight up." 
Boyega feels that co-stars Tran, Oscar Isaac, and Naomi Ackie had characters that were similarly underutilized. 
"Like, you guys knew what to do with Daisy Ridley, you knew what to do with Adam Driver," Boyega continued. "You knew what to do with these other people, but when it came to Kelly Marie Tran, when it came to John Boyega, you know fuck all. So what do you want me to say? What they want you to say is, 'I enjoyed being a part of it. It was a great experience…' Nah, nah, nah. I'll take that deal when it's a great experience. They gave all the nuance to Adam Driver, all the nuance to Daisy Ridley. Let's be honest. Daisy knows this. Adam knows this. Everybody knows. I'm not exposing anything."
And for anyone who is willing to take an honest look at the films, it's abundantly clear that Boyega's not exposing anything—he's just saying what is there on the screen. Unfortunately, not all viewers are going to agree with this, as Boyega knows all too well. After all, the actor received death threats simply for being a Black cast member in the film. 
"It makes you angry with a process like that," Boyega said of his time with Star Wars having so much to do with his race. "It makes you much more militant; it changes you. Because you realise, 'I got given this opportunity but I'm in an industry that wasn't even ready for me.' Nobody else in the cast had people saying they were going to boycott the movie because [they were in it]. Nobody else had the uproar and death threats sent to their Instagram DMs and social media, saying, 'Black this and black that and you shouldn't be a Stormtrooper.' Nobody else had that experience." (To be clear, Tran did face similar harassment.) Boyega continued, "But yet people are surprised that I'm this way. That's my frustration."
No, it's not a surprise he's outspoken and open about Star Wars, and about being a Black man in this world in general. And it won't be a surprise when he continues to speak out about his future experiences. Finn's storyline will live on incomplete in movie history, but Boyega's story won't. He's making sure of that.