Fans thought John Boyega accidentally slipped some "Star Wars" spoilers, and Mark Hamill had the funniest response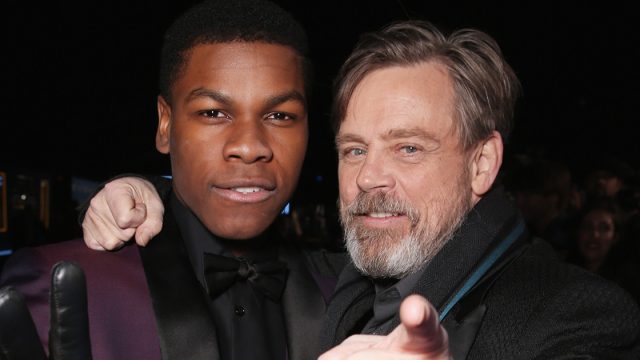 Oh dear! It seems that when it comes to navigating Star Wars fans and their ferocity, John Boyega still has a little bit to learn.
Boyega, who plays Finn in the Space Opera franchise, got fans all in a tizzy yesterday when he harmlessly went on to Twitter to express his excitement about a potential upcoming role. However, given that members of the Star Wars family can barely breathe without someone (us included, tbh) thinking they're spilling secrets about The Last Jedi, the identity of Rey's family, what drove Luke into seclusion, or whether Finn and Poe will *actually* get together, the British-born actor was met with a barrage of fan questions on social media.
Boyega tweeted, "Time to play a villain ey…" which resulted in a flood of people getting very, very excited.
false false
false
Wanting to clear things up, the actor returned to Twitter to try to dispel fans' wild theories about the tweet's relationship to Star Wars.
"Guys please lol it is not Star Wars related!" he wrote.
Of course, such a slip up was met with teasing from John Boyega's Star Wars co-star, Mark Hamill, an expert at keeping things close to his chest when it comes to revealing *anything* about the movies.
"See how easy it is to accidentally leak a spoiler, son? (Hope you didn't say anything about OUR relationship in #EpVIII) #ScaredSithless," Hamill tweeted at the younger actor.
This led to a hilarious back-and-forth between the pair, full of Star Wars spoilers — or not.
Oh, LOL!
Of course, we're assuming that neither Mark Hamill and John Boyega have actually leaked any Star Wars secrets, but we love seeing how much the cast can joke with each other.
Luckily, there's not too long to wait until we get some answers to our never-ending questions, as Star Wars Episode VIII: The Last Jedi is set to hit theaters in December 15th (or December 14th if you're in the U.K.). Hopefully both Boyega and Hamill will be able to keep hold of their secrets until then.