Joey King from The Kissing Booth just shaved her head—and yes, there's video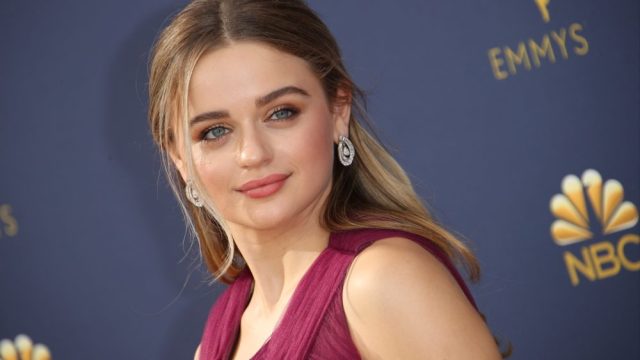 In major hair-related news of the week, The Kissing Booth star Joey King has officially shaved her head—but she wants you to know it's no big deal. King debuted the new 'do via an Instagram video, and it looks incredible.
King, 19, shared the video on Monday, October 8th, revealing that the change-up is for her role in Hulu's new true-crime anthology series, The Act, in which she portrays real-life Gypsy Rose Blanchard (aka the subject of the 2017 documentary Mommy Dead And Dearest).
If you're wondering whether King had any hesitation about cropping her hair off, the answer is a resounding no. King shared her experiences with Allure magazine, telling them why rocking a shaved head is simply NBD to her at this point.
https://www.instagram.com/p/BorqXGRgS5R
"I've never really had an attachment to my hair. I couldn't care less what happens to it," King told the magazine. "No part of me was nervous or was second-guessing it. So many people would ask me, 'Are you really scared?' or 'Are you nervous?' or say, 'You're so brave.' And I'd go, 'I'm not brave, I'm just cutting my hair off."
King has even shaved her head for two previous roles. She rocked sheared strands when she was just 11 years old to play young Talia al Ghul in The Dark Knight Rises, and shaved her head in 2014's Wish I Was Here.
She also told Allure that she actually finds a shaved head way more versatile when it comes to her overall look. "Some days I feel like just throwing on a little mascara, a little bit of a dewy highlight, and then some lip gloss and I'm gone," she said. "Some days I want to have a wing and a nice eye shadow. But it's honestly just a preference thing because makeup, especially when you have no hair, is so fun to play around with. I have so many different options."
If you're thinking of taking the plunge yourself, King is all for it. She said, "I know this sounds crazy, and not a lot of people will agree with me, but I think every woman should shave her head at least once in her life. It's not like they're going to regret it 10 years down the line when their hair is long again. It's something that's very freeing, really fun, and really empowering."
The only downside? "I'm loving it so far, although I'm not loving that I've gotten three bug bites on my scalp," she said.
Would you shave your head?