Joe Keery warned us that Stranger Things Season 4 will be "a lot scarier" than before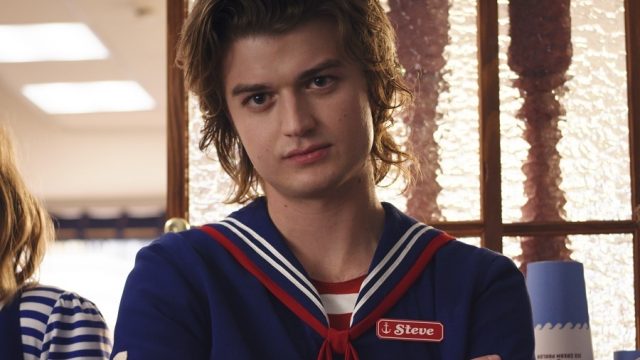 Star Joe Keery—aka Steve Harrington; aka popular jerk-turned-goofy heartthrob—just revealed some new insight about Stranger Things Season 4. We've already been flipping out over all the details that have been revealed so far, like that Hopper is, in fact, alive, and in Keery's recent interview with IndieWire, he gave us even more reason to get excited about what's coming next.
"Oh man, it's pretty amazing—the Duffer brothers have really done it again," Keery said about the show's creators, Matt and Ross Duffer. His next statement is somewhat reminiscent of what Chris Harrison says on every season of the Bachelor franchise: He promised that Season 4 will be "the most dramatic season yet." Still, we always choose to believe Harrison, and we're believing Keery, too.
"I think that this year—and I know I say this every single year—but this is definitely going to be a lot scarier than prior years because last year was pretty dark," Keery said.
Unfortunately, Keery left out the juicy details about how exactly Season 4 will be scarier, but we're excited nonetheless. Scarier than finding not-Will in the water in Season 1? Scarier than possessed Billy or "Run" coded in the Christmas lights? We're so ready, but we're preparing our throw pillows to hide behind.
Keery did, however, share a less-exciting detail that we're struggling to come to terms with: His Scoops Ahoy career is no longer. "I know that costume served its purpose, and I'm glad to retire it," he said.
Keery also left out the detail about when the new season will air—likely because he, like the rest of us, has no real clue. Netflix never announced the planned release date for Stranger Things Season 4, and with production on the series currently delayed due to the coronavirus (COVID-19) pandemic, it's even harder to say when we'll be able to binge a new season of our favorite sci-fi series. According to IndieWire, the Season 4 shoot was originally planned to take place from January through August 2020. Production was halted mid-March, meaning the crew still has months of material left to complete.
Still, Netflix said that its 2020 slate wouldn't be affected by the pandemic, according to The Verge. We don't know if Stranger Things was even planned for 2020, so it's unclear where the show stands right now. While we wait it out, we'll be re-watching Seasons 1 through 3 and gaining more appreciation for Steve Harrington's character development.
As information about the coronavirus pandemic rapidly changes, HelloGiggles is committed to providing accurate and helpful coverage to our readers. As such, some of the information in this story may have changed after publication. For the latest on COVID-19, we encourage you to use online resources from CDC, WHO, and local public health departments and visit our coronavirus hub.