Gaten Matarazzo literally falls out of his chair answering the most Googled "Stranger Things" questions with Joe Keery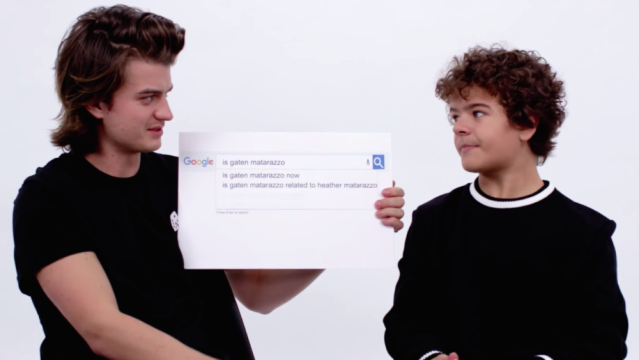 Steve Harrington and Dustin Henderson may have formed the most adorable on-screen friendship in the newest season of Stranger Things, and it turns out Joe Keery and Gaten Matarazzo are just as close in real life. From gushing about each other in interviews to their hilarious interactions on Twitter, we love that our favorite on-screen bromance has also made its way off-screen.
The two recently sat down to for Wired's latest autocomplete interview — answering some of the most popular internet search questions about the hit Netflix series and themselves — and it may be one of the most adorable things you'll watch today.
And despite being of different eras —  Gaten drew a complete blank when Joe made a reference to Wheel of Fortune's Vanna White — the two had us in stitches as they answered the hilarious and often existential autocomplete questions.
For instance, despite being a fictional sci-fi horror show, Gaten revealed that there is some truth to the story — sort of. The actor said that Stranger Things is actually based on rumors about a very real place.
"It is based on a place in Montauk, New York, called Camp Hero. There [were] rumors of secret government spies doing these human experiments to fight in the Cold War," Gaten said. "It's exactly what's happening in Stranger Things. So it's based on that one government lab in Montauk, New York, which is a real place you can go visit, but...you're not allowed in."
We also learned that Gaten is not related to The Princess Diaries actress Heather Matarazzo, BUT his Mom is *also* named Heather Matarazzo.
https://www.youtube.com/watch?v=_EvMYEfF_hQ?feature=oembed
AND, while Joe Keery has been too busy acting to tour with his band Post Animals, he is still part of the band. *Phew*
All this is to say we're definitely going to be needing more interviews with Joe Keery and Gaten Matarazzo to brighten our days.