Joe Jonas' comment on Sophie Turner's Instagram is total #DatingGoals
Ah, young love. Game of Thrones star Sophie Turner and Joe Jonas are Instagram-officially dating, and we might be just as into their relationship as they are. But like, not in a creepy way. We're just on board for their courtship (from afar, but still on board).
You get it.
Turner attended the 70th British Academy Film Awards (BAFTAs) on Sunday night and wore a smokin' hot dress that showed off her gorgeous legs. She posted a picture on Instagram of herself on the red carpet, because duh, wouldn't you?
"What a night. @louisvuitton ?," she captioned the pic.
Her adoring (and super hunky) boyfriend seemed to be super into the dress, and probably just into her in general. Jonas wrote a comment on her Instagram that's giving us some serious #DatingGoals.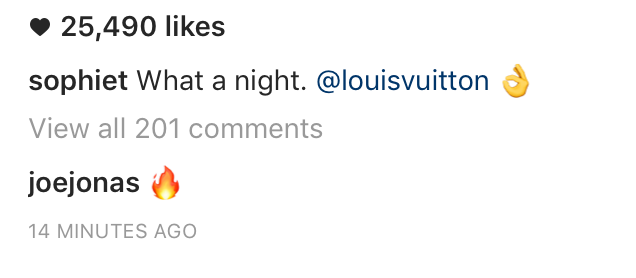 Adorable, right?
Jonas is clearly a man of few words when it comes to Instagram comments. But who needs words when the fire emoji accurately expresses your thoughts and feelings? Turner was definitely on fire on that red carpet, that's for sure.
The couple made their relationship Instagram official back in January, and ever since then the two have been seemingly inseparable.
But since they're both mega stars and have busy careers, they don't always get to attend every event together. So they do what any other normal, social media-loving couple would do; they take to Instagram to give a quick little, "Hey, I'm thinking about you" shout. And in Jonas' case, it's the fire emoji. Because #Romance.