Joe Jonas revealed his one-year wedding anniversary surprise for Sophie Turner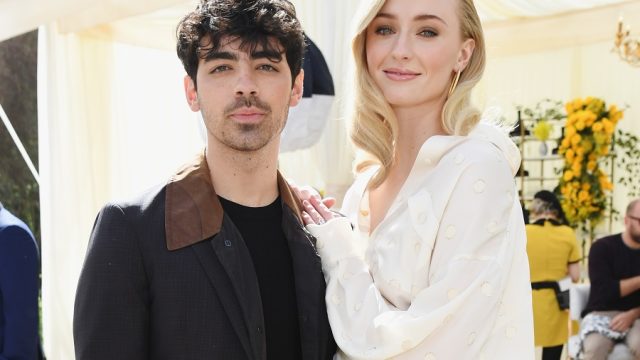 Joe Jonas and Sophie Turner will celebrate their one-year anniversary on May 1st, 2020. After being engaged for nearly two years, the pair got married in Las Vegas, Nevada, in an impromptu ceremony after the 2019 Billboard Music Awards. Though the current coronavirus (COVID-19) pandemic has changed Jonas and Turner's celebration, Jonas said he has a sneaky plan to surprise his bride come Friday.
"I think we would have gone back to Vegas," Jonas told James Corden on Monday's at-home episode of The Late Late Show.
"So, if you can keep a secret, I would say I might try to recreate Vegas in our house," Jonas continued. "I have a DJ setup. We could do a night club."
Corden suggested that Jonas could dress up as the Elvis impersonator who officiated their Vegas wedding. "Now you're talking. I could be like that Elvis and just start doing interviews," Jonas joked, noting that the guy playing Elvis actually did a mini press tour after their wedding.
Corden said that the Elvis impersonator would probably hop on a Zoom call for the occasion. Jonas replied, "This time, I'll make sure he signs an NDA."
DJ-ing has already been a big part of Jonas's quarantine routine. Turner told Conan O'Brien that he liked to play music "really, really loudly" while she reads scripts. (LOL.)
"He's DJ-ing at home," she said about her husband. "Like, the other day, yesterday or the day before, he did an '80s set for a good part of two hours."
When Jonas and Turner tied the knot in Vegas, they swapped Ring Pops in lieu of actual wedding rings. And though they tried to keep the noise surrounding the wedding on the down-low, pal Diplo pretty much live-streamed the entire thing.
Jonas and Turner then held a more traditional, larger ceremony and reception in France in July 2019.
Turner has admitted to loving quarantine life, so we have a feeling she won't be too upset with the fact that she and Jonas can't go out to celebrate their first wedding anniversary. Sweatpants, and at-home dance party, and Las Vegas vibes seems like the perfect celebration to us.
As information about the coronavirus pandemic rapidly changes, HelloGiggles is committed to providing accurate and helpful coverage to our readers. As such, some of the information in this story may have changed after publication. For the latest on COVID-19, we encourage you to use online resources from CDC, WHO, and local public health departments, and visit our coronavirus hub.