Fans Think Joe Jonas's New Neck Tattoo Is of Sophie Turner
According to some, the eyes have it—it's definitely Sophie.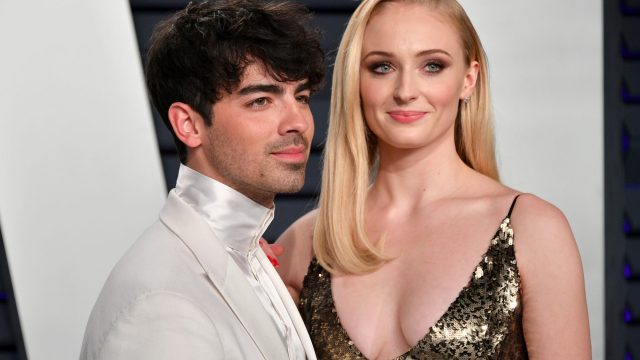 Knock, knock. Who's there? Is that Sophie Turner peeking through Joe Jonas's new keyhole tattoo? Jonas invested in some new ink yesterday, October 13th, and some fans think it's an ode to his wife, Sophie Turner of Game of Thrones fame.
Jonas was inked by the Instagram-famous tattooer NAL, who specializes in delicate single-needle designs. The tattoo is a classic keyhole shape with what appears to be a woman's eye peeking through the opening.
"Is that Sophie? Lol that genuinely looks like her," one follower commented. Another wrote, "I loved! Sophie's eye!" And someone else wrote, "Okay this is the sweetest thing ever…If that's Sophie's eye!!"
Although it's hard to tell who the woman is, some fans in the comments are likening the face to Turner's. But, in truth, it could be anyone—including one of the ladies featured on Jonas's recent arm tattoo, which are all renditions of Piero Fornasetti artworks.
Jonas and Turner are both fans of tattoos, and if the lady in the keyhole is Turner, this is the second time Jonas has gotten inked with a look-a-like to his wife. In 2018, Jonas got a piece from Toronto-based tattooer Curt Montgomery that looked like it could definitely be a portrait of Turner as her Game of Thrones character Sansa Stark.
Again, the lack of detail doesn't help connect the dots, but we'd like to believe this is an ode to Sansa.
Of course, Jonas is pretty heavily inked from head to toe, so chances are there is something there that symbolizes his love for Turner (and/or maybe his love for his brand new baby daughter). If he hasn't gotten a Dad tattoo yet, we have a feeling one is coming down the pipeline.
The mystery behind the keyhole lady is one that probably won't be unlocked any time soon, but whether it's Turner's eye or one of Fornasetti's muses, it's a beautiful new piece of ink no matter how you slice it.