All the photos from Joe Jonas's 30th birthday that make us wish we got an invite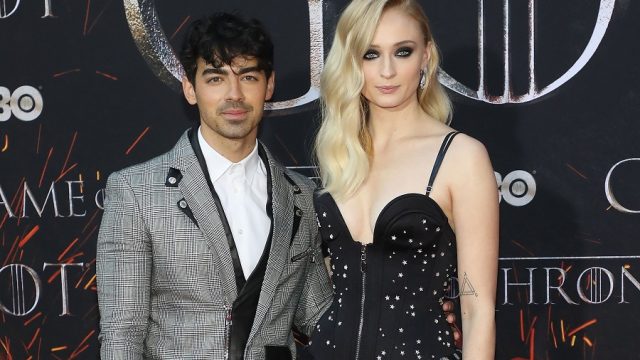 Mr. Joe Jonas had quite a memorable 30th birthday this weekend. The singer entered his new age milestone with celebrations that consisted of everything from being surprised on stage with a birthday cake to a love note from Sophie Turner on Instagram, as well as a lavish James Bond-themed birthday party with his family and closest friends. Of course, there were tons of photos to mark the special occasion—and yes, we're devastated we weren't invited.
The festivities all started on Jonas's actual birthday, Thursday, August 15th, during the Jonas Brothers' Happiness concert in Washington, D.C. Not only did his fans sang him "Happy Birthday," but he got to blow out candles and eat a little cake as his wife, brothers Nick and Kevin Jonas, and sister-in-law Danielle celebrated with him onstage.
"Couldn't have asked for a better night, thank you all so much. Nothing better than doing what I love with my loves on my birthday," he wrote alongside a video of the moment.
https://www.instagram.com/p/B1NdnbBhvd-
Fans shared photos from the audience, which included a kiss between the couple.
https://www.instagram.com/p/B1O6QCYlOwF
Backstage, he was surprised with a Game of Thrones-themed cake:
https://www.instagram.com/p/B1NkBtulld8
Earlier that day, Turner also posted a birthday message to her Instagram Story. "Happy 30th to my love and the best thing that's ever happened to me. You are my world," she wrote.
The celebrations continued into Friday night, August 16th, with a James Bond-themed party at Cipriani Wall Street in Manhattan. Jonas arrived in style with a sleek white tuxedo and black bow tie, while Turner stole the show (and channeled serious Bond Girl vibes) in a navy gown featuring a thigh-high slit and plunging neckline.
https://www.instagram.com/p/B1R_9f_BtnZ
The two even showed up in an Aston Martin, which is 007's signature car.
https://www.instagram.com/p/B1RiXPyFw2s
See more photos from inside Joe Jonas's 30th birthday bash, below:
https://www.instagram.com/p/B1RHfYeiNIl
https://www.instagram.com/p/B1RXaWjHeVy
https://www.instagram.com/p/B1RaZTohQnb
https://www.instagram.com/p/B1QW5LLltsa
Stranger Things star Michael Park also shared a few snaps.
https://www.instagram.com/p/B1RAFjKAA3j
We'll be here waiting for our invite to his 31st.