Is Joe Biden going to run for president in 2020? It's totally possible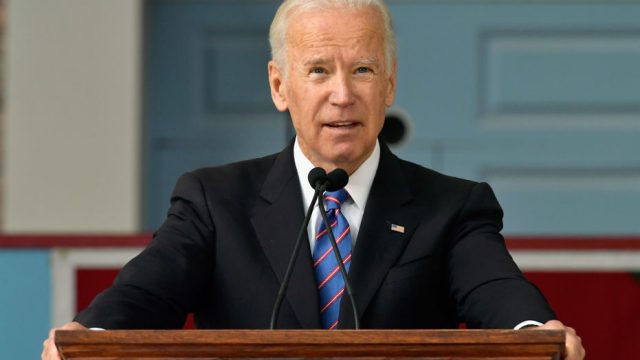 Is Joe Biden running for president? Well, let's just say he hasn't announced that he won't run. In a recent interview with InStyle editor-in-chief Laura Brown,the former vice president gave clues that pointed to the possibility that he would run in the 2020 election. But Biden also explained that his family still needs time to heal.
He's of course talking about the death of his son, Beau Biden, who passed in 2015 from brain cancer at the age of 46. In Biden's upcoming memoir, Promise Me, Dad: A Year of Hope, Hardship, and Purpose, due to hit shelves November 14th, he emotionally tackles how the family dealt with Beau's 2014 diagnosis.
Biden also talks about how Beau's illness affected his 2015 decision to not run in the 2016 election.
Biden mentions in his book that before Beau fell ill, his son and the rest of the family really pushed him to run in 2016. "They thought it would give us purpose, bring us together," Biden told Brown.
But after such tragedy, the Biden family's main goal is to just feel okay, Brown explained. Once some time has passed, the family will reevaluate to see how they all feel.
In another recent interview with Vanity Fair, Biden maintained his indecisiveness about running but gave a more hopeful answer for those who wish to see him enter into the election.
"I haven't decided to run," he said, "but I've decided I'm not going to decide not to run. We'll see what happens."
He confessed to InStyle that he would make a particularly good candidate at this point in history. Biden said,
"I am, I think most people would say, fairly knowledgeable about American foreign policy. I'm pretty good at diplomacy internationally and bringing people together, cutting through and settling things. And I think what people are looking for most, and I hope I have it, is authenticity. I have great relationships with my Republican colleagues. They trust me, and I trust them. We can work things through."
And Biden has always been particularly keen on supporting and building up the middle class. He reminded Brown that he was called "Middle Class Joe" when he got to Washington — and that wasn't meant as a compliment.
"Anyway," he continued, "I'm familiar with the issues, and I think I could bring some talent there. So it's not that I don't think I'm equipped to do the job. We'll just see."
We suppose that only time will tell. And while we wait, we'll certainly be crossing our fingers.