Chrissy Teigen's Dreams Came True—She's the Only Celebrity POTUS Follows on Twitter
Now we need a video of her cooking with Joe Biden in the White House kitchen.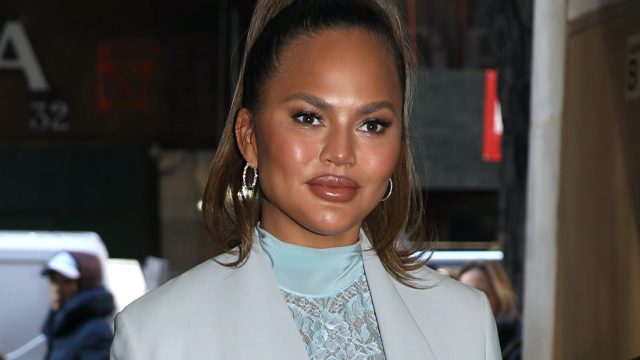 Wednesday, January 20th, was a major milestone in our country and democracy's history: Joe Biden was sworn in as the 46th president of the United States with Kamala Harris by his side as the first female, first Black, and first Asian-American vice president of the United States. The Biden-Harris administration wasted no time getting to work. Among signing several executive orders on topics like COVID-19, climate change, and immigration, President Biden also took over the POTUS Twitter account. His first manner of business? Unblocking and following Chrissy Teigen.
The 35-year-old Cravings cookbook author sent an early morning tweet to Biden on Inauguration Day: "hello @joebiden I have been blocked by the president for four years can I get a follow plz." And it seems like her efforts didn't go to waste. Out of the 13 people the POTUS Twitter account follows, Teigen is the only celebrity and person who is not associated with the White House to get the honorable follow. We're just dying to know: how jealous do you think John Legend is?
"OH MY GOD !!!!!!!!!!" Teigen captioned a retweet with a screenshot of the POTUS's following list, adding, "my heart oh my god lmao I can finally see the president's tweets and they probably won't be unhinged"
A few minutes later she fired off another celebratory tweet joking, "I should prob never tweet again."
In addition to Teigen, the POTUS account follows a very select handful of U.S. government officials as well as First Lady Dr. Jill Biden, Vice President Harris, and second gentleman Doug Emhoff. Teigen is clearly in great company.
Teigen has been very vocal and supportive of both Biden and Harris throughout their presidential campaign. She's participated in drive-in rallies (where she tweeted she was never "showering off my Kamala hug"), openly expressed her distrust with the opposing and former administration, and even made an appearance during Los Angeles's public celebration when Biden was announced president-elect.
To quote her own husband's inauguration night performance: "It's a new dawn it's a day," and Teigen is definitely feeling good.
Emily is a NYC-based freelance entertainment and lifestyle writer — though, she'll never pass up the opportunity to talk about women's health and sports (she thrives during the Olympics).
Read more