Joe Biden was spotted helping out a homeless man outside a D.C. movie theater, and it makes us miss him even more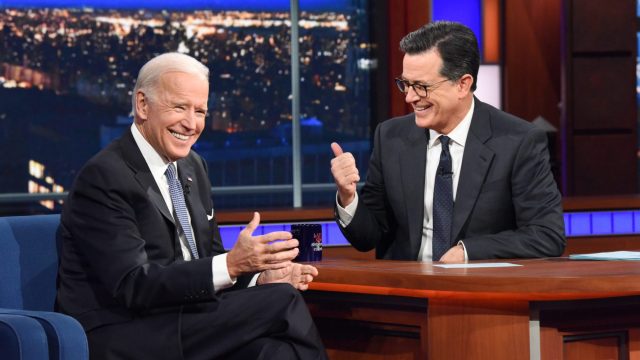 Talk about bittersweet. It's been over a year since Donald Trump took office, and we'd be lying if we said it's been anything but difficult. From the nearly 2,000 false or misleading claims Trump made in 2017 to his ranking as the worst president ever, looking back on Barack Obama's presidency gives us all kinds of feels. And today in heartwarming news, former Vice President Joe Biden was recently spotted talking to a homeless man outside a movie theater in Washington, D.C., and we're gonna need a minute to recover.
As seen in the photo that a tipster sent to Politico, America's Uncle Joe stopped to chat with the man after leaving the Georgetown theater with his granddaughter. The image, which has since been widely shared on social media, unsurprisingly went viral. Honestly, we love seeing Joe Biden exhibit such truly kind behavior even when the cameras aren't rolling. It's a kickass reminder that real character isn't about what you say, it's what you do.  
This isn't the first time we've seen Biden's positive personality shine through, either. (Remember when he found two quarters on the ground in Burlington, Vermont, and looked so adorably excited?) TBH, it just shows he really does embody all things good in the world.
Joe Biden's gesture toward the homeless man inspires us to do the same.
It's important to remember that kindness and social consciousness go hand-in-hand. Joe Biden has been an outspoken critic of Donald Trump and the toxic culture of sexual assault, but despite his "woke" behavior, he remains gracious.
Besides, just look at the man:
Need another reason to be inspired by Biden? Science tells us that selflessness pays off. In fact, acts of kindness are better than ice cream in terms of how they make you feel (whoa, right?). And who couldn't use some extra good vibes? Truthfully, maybe Donald Trump should take a page from the former VP's book.
Until then, thanks for being awesome, Uncle Joe. We appreciate the reminder that good exists in the world, and we hope to follow your example.