Joe Biden's former staffer alleges that he sexually assaulted her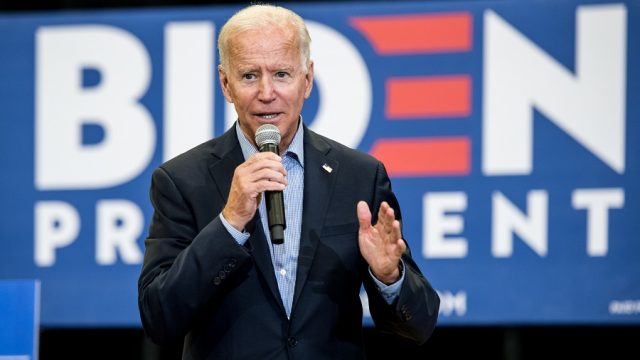 Trigger warning: This article discusses sexual assault.
Joe Biden is facing a new allegation of sexual assault from Tara Reade, who was a staff assistant to Biden—then a Delaware senator—from 1992 to 1993. Last spring, Reade was one of several women to accuse Biden of inappropriate behavior following Lucy Flores' essay in The Cut about her experience with Biden touching and kissing the back of her head without her consent. But Reade only told part of her story last year. In a March 26th interview with Katie Halper, she detailed other alleged incidents of sexual harassment, including a time when the senator allegedly digitally raped her.
In one alleged incident, Reade told Halper, she and the senator were alone in a secluded area of the office. Suddenly, Reade claimed, "he had me up against the wall."
"It happened all at once," Reade said. "His hands were on me and underneath my clothes. He went down my skirt but then up inside it. And he penetrated me with his fingers. He was kissing me at the same time." Reade also claims she remembers Biden asking if she "wanted to go somewhere else." When she pulled away, Biden allegedly said, "Come on, man. I heard you liked me." Reade told Halper that that phrase stayed with her, because "he implied that I had done this." And in that moment, she recalls, "everything shattered."
"I looked up to him," Reade said. "He was my father's age. He was this champion of women's rights in my eyes. And I couldn't believe it was happening. It seemed surreal."
Reade said that she "must have looked shocked," because Biden allegedly grabbed her shoulders, told her "you're fine, you're okay," and then "walked away and moved on with his day."
In her original allegations in April 2019, Reade told the California-based newspaper The Union that, during her tenure in Biden's office, the senator "used to put his hands on my shoulder and run his finger up my neck. I would just kind of freeze and wait for him to stop doing that." According to Reade, Biden also wanted her to serve drinks at an event "because he liked her legs." She allegedly refused, then approached Senate personnel about Biden's behavior. When "word got back to Biden's office," Reade's duties were reduced, she claimed. Two months later, she left his office.
Futher, in a March 24th article in The Intercept, reporter Ryan Grim wrote that in January, Reade approached Time's Up to help her tell these additional aspects of her story, which she had left out in her original interview with The Union. After initially promising conversations with the organization—which exists to help sexual assault survivors tell their stories, and to provide legal aid through the Time's Up Legal Defense Fund—Reade was reportedly told that the nonprofit couldn't help her.
"No assistance could be provided because the person she was accusing, Biden, was a candidate for federal office, and assisting a case against him could jeopardize the organization's nonprofit status," Grim reported.
The Intercept spoke to Maria Patrick, a representative for the National Women's Law Center, the women's rights organization that houses Time's Up. Patrick explained that "as a nonprofit 501(c)(3) charitable organization, the National Women's Law Center is restricted in how it can spend its funds, including restrictions that pertain to candidates running for election." Grim also reported that Anita Dunn, the managing director of the PR firm that represents the Time's Up Legal Defense Fund, is a top advisor for Biden's presidential campaign.
Reade reportedly knew she would need help weathering the backlash that would arise against her when she told her story in full. She told Halper that she had received death threats after her Union interview was published.
"I never got any justice," Reade told Halper. "I lost my career. I didn't do anything wrong. I didn't choose that situation. I didn't want him to look at me in an objectifying way. By doing that, he minimized me, he minimized my worth at the workplace, [and] he minimized me as a woman."
If you are a sexual assault survivor and need help, you can call the National Sexual Assault Telephone Hotline at 1-800-656-4673 to speak to a trained counselor. You can also chat online with a counselor here. Both services are available 24/7.